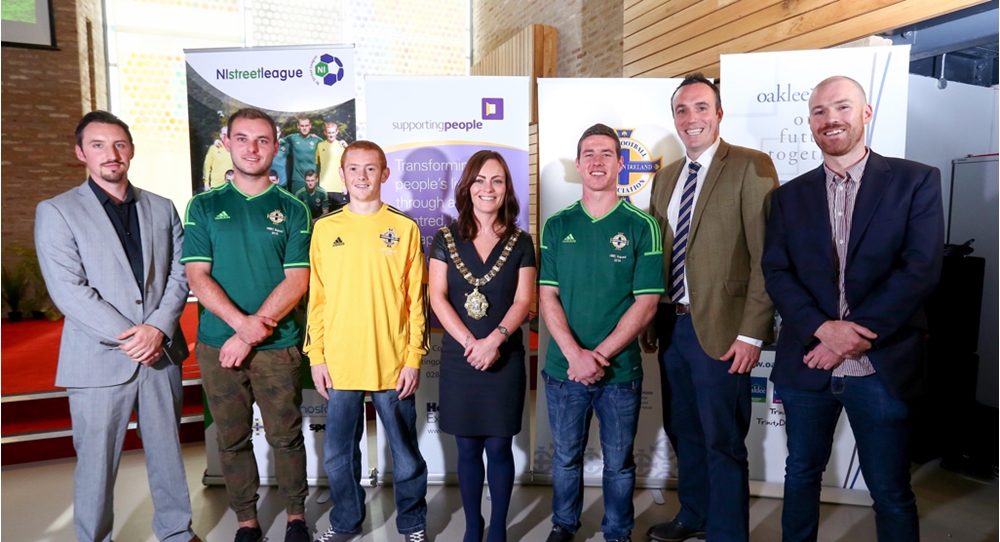 The former NI Street League, now re-launched as Street Soccer NI, is a project supported by the Irish FA, using football to engage with some of the most marginalised in society to help them tackle complex issues that can lead to homelessness, whilst giving them the skills to break out of the cycle of homelessness.
Team Northern Ireland who won the Accion Total Trophy at the 2014 Homeless World Cup in Chile were sponsored by the Housing Executive, Belfast City Council, East Belfast Mission, Irish Football Association, the Northern Ireland Community Relations Council, Special EU Programmes Body, Sport Relief, DePaul, Extern, Oaklee Trinity, Belfast Community Sports Development Network, the Community Foundation Northern Ireland and Ormeau Enterprises.
The Irish FA formerly recognises the team and presents the players with international caps in recognition of their achievements.
Team captain, Brendan Kingsmore, said: "Football brings me a different level of happiness. I care more about my life, thanks to football. I literally owe my life to football."
The project has proved life changing for the eight players and one volunteer coach who participated in the Homeless World Cup. To date:
• All have now been rehoused.
• Three players have acquired their Level 1 Irish FA coaching badges; two have become volunteer coaches and role models to others in their community. Three more intend to complete the qualification. Three or four will be running drop in football coaching sessions for the charity in 2015. One will have the opportunity to be volunteer coach for the 2015 team competing in the 2015 Homeless World Cup in Amsterdam in September.
• Two players have completed a programme of support from an employability service including CV building and interview skills, and one has acquired full time employment.
• One has completed a training programme at Princes Trust and now has volunteer position as Ambassador for the Prince's Trust inspiring others to make changes in their lives
• One signed a semi-professional contract for Bangor FC. He is only 18 years old and has a promising career ahead of him.
• Three people have completed IFA referee course and are now qualified to undertake paid refereeing.
• Four have volunteered to carry out regular promotional work; including speaking to the media and at conferences.
• No participants have been involved with the criminal justice system since the project.
• All are involved in regular sport including 11 a-side football.
• Nine participants have completed a five month programme (including fitness regime and team building), represented their country at an international tournament and completed a programme in Drug Awareness and in Mental Health Awareness. They have also competed in the All-Ireland Tournament in Dublin.
• Each player will receive an international cap from the Irish FA for representing their country.
• The volunteer coach from Team Northern Ireland has been shortlisted for Belfast City Council's Sports Awards as Volunteer of the Year 2015.
Irish FA Chief Executive Patrick Nelson, said: "We were delighted to support the successful NI team in the 2014 Homeless World Cup in Chile and we are committed to supporting Street Soccer NI moving forward. The outcomes for the individuals involved in Chile confirm the value of the project and we are happy to see the further development of the project in 2015."
Irish FA Director of Football Development and Street Soccer NI Coach Mentor, Michael Boyd, added: "We believe passionately in football for all and the power football can have to change lives for the better. This project is a great example of strategic partnership work using football as a hook to transform the lives of some of the most marginalised men in Northern Ireland. The project is an outstanding success story and we thank all the partners and the team for their determination to make a difference."
Street Soccer NI was a recent winner at the NI Housing Awards 2015 for the impact it has had on the participants.
The last word goes to Kenny Flood, one of the players. He said: "I was homeless for over three years. Now I've got my own home, I'm busy with football, volunteering and training, and I've lots of plans and hopes for the future!"
The team which played in the 2014 Homeless World Cup in Chile has been invited to attend Northern Ireland's Euro 2016 qualifier against Finland on Sunday 29 March with their trophy.