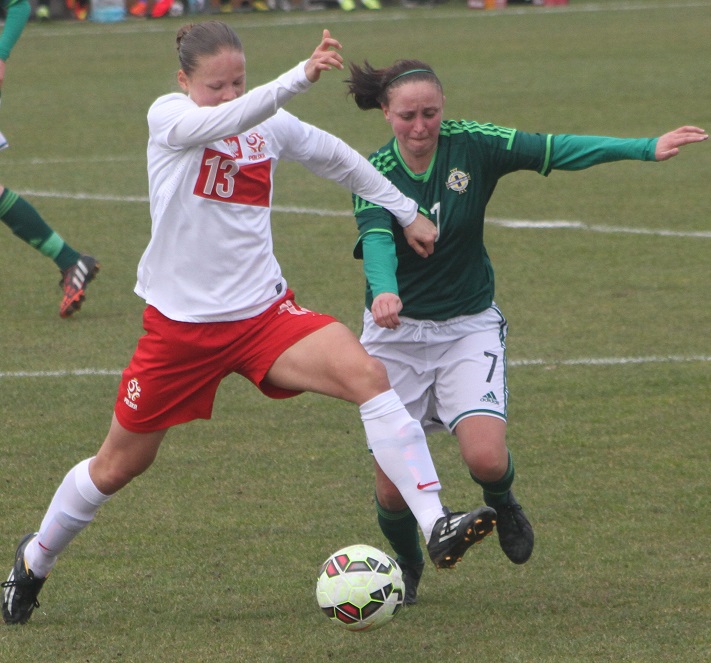 Alfie Wylie's side was a mixture of youth and experience and there are many positives to be taken from what was a plucky performance against a strong, well-organised side.
There were few goal attempts in the first half - Kirsty McGuinness's angled shot after a strong run was deflected just the wrong side of the post - and Emma Higgins' goal was rarely threatened as both sides came to terms with the hard, dry surface.
Poland broke the deadlock in the sixtieth minute when Sikora broke through on the right and scored with a powerful volley.
Northern Ireland worked hard to get the equaliser, with Aoife Lennon, Marissa Callaghan and Clare Timony prominent in midfield, and there was an impressive debut from Hayley Crackle, the Aston Villa defender.
Manager Wylie used a number of substitutes in the closing stages, as Northern Ireland chased the equaliser but it was Poland who scored again in the fourth minute of additional time, this time a powerful shot from Balcerzak, to secure a rather flattering 2-0 victory.

Northern Ireland' s next fixture is on Friday morning against Romania at Porec with an 11.30am kick-off, with their final Group match on Monday at Umag against tournament hosts Croatia, kick-off: 2.00pm.