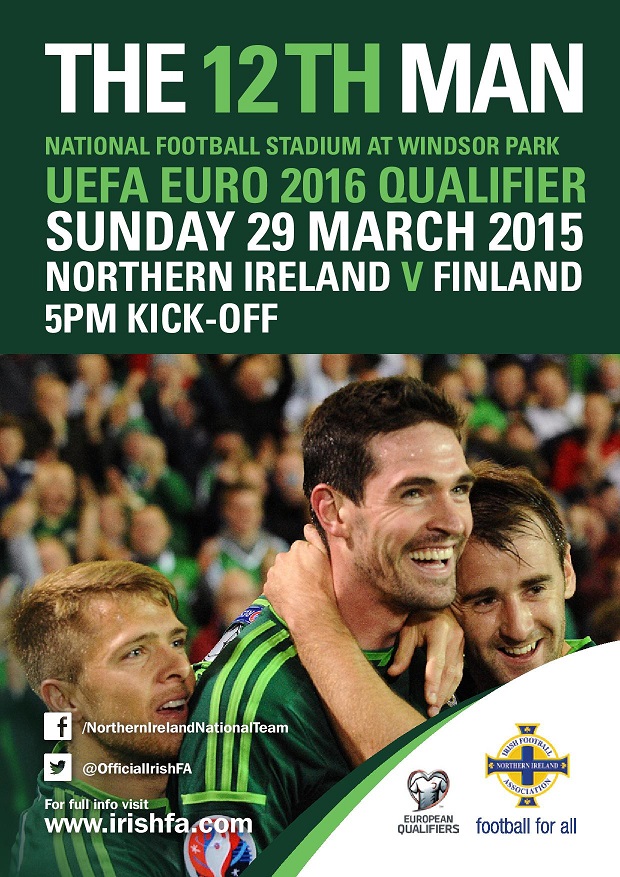 Please CLICK HERE to download your 12th Man Guide for this Sunday's match against Finland.
Inside you will find
• A message from the National Team Manager and the Amalgamation of NISC
• Information on the pre-match fun-filled family Fan Zone at Olympia Leisure Centre
• A Stadium Map and Travel Advice from Translink
Fan Zone
The Fan Zone, in partnership with Irwin's Bakery, will run from 2pm – 4.15pm. Everyone is welcome to come down – there will be prizes including ticket giveaways for concerts and future NI fixtures and games for all the family!
Tickets and Entrance to the Stadium
Please check your seat and block against the map of the stadium as your entrance may have changed since the previous game. Anyone using accessible seating should access the stadium from Olympia Drive as the turnstiles at the North West corner of the ground have been removed and we are using the side gate from Olympia Drive.
Ticket issues
Should you have any issues with your ticket there will be a Ticketmaster Van at the stadium from 3pm on Sunday. This will be located behind the West Stand and we will be able to help you with any ticket issues there.
If you have a Campaign Card you can of course manage your tickets online via www.irishfa.com/myaccount and print of a single use ticket if you need.
We look forward to seeing you at the match – as the Manager's message says, let's get to our seats in good time and build a great atmosphere for the team.