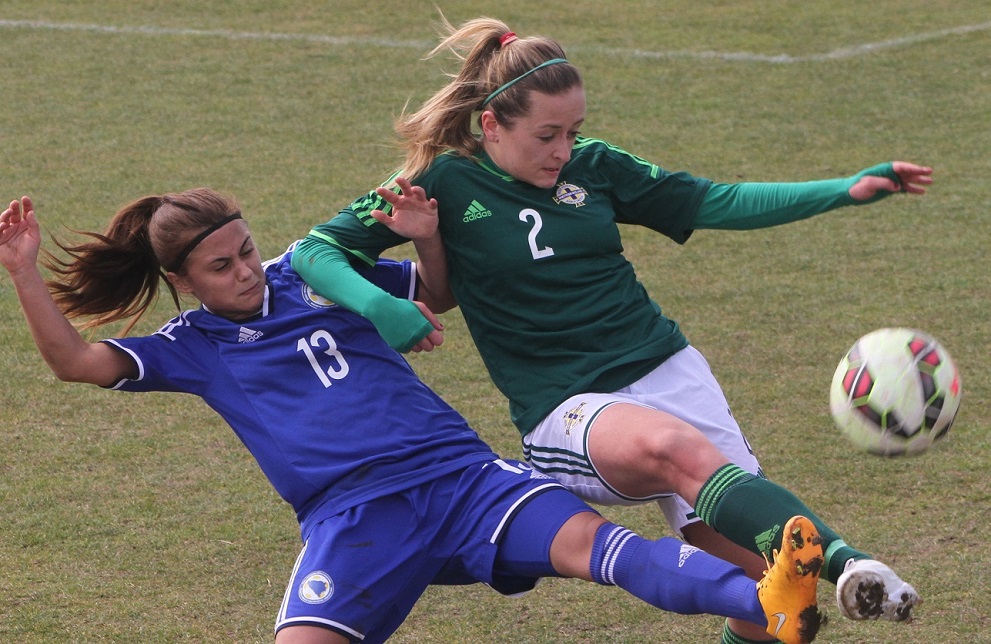 The ninety minutes ended in stalemate, and the tournament format required a penalty shootout. Nine goals in a row were duly converted before Northern Ireland's fifth goal shaved the outside of the upright to give a nominal victory to the Bosnians.
The match itself was a largely undistinguished affair, played on a bone hard surface which made fluid football difficult. Northern Ireland had a strong claim for a penalty turned down when the Bosnians' rugged forward Hadzic appeared to handle in the area.

Worse was to follow near the end when Northern Ireland's captain, Ashley Hutton, lightly brushed off a Bosnian challaenge, but found herself shown a straight card, as her opponent writhed on the ground clutching her face.
The Bosnians' best chance came when Ellie Butterwick cleared a header off the line but throughout the game, Hasanbegovic in the Bosnian goal was much busier than Northern Ireland's 'keeper Emma Higgins.
Team Manager Alfie Wylie was pleased with the clean sheet, and indeed was full of praise for all of the performances against some very strong nations:

"The entire Tournament was a very useful training camp, both for the experienced players who could come but particularly for the younger members of the squad who served us well. We were able to put some important structures in place and achieved a good focus on the European Qualifying Group matches which start in September."