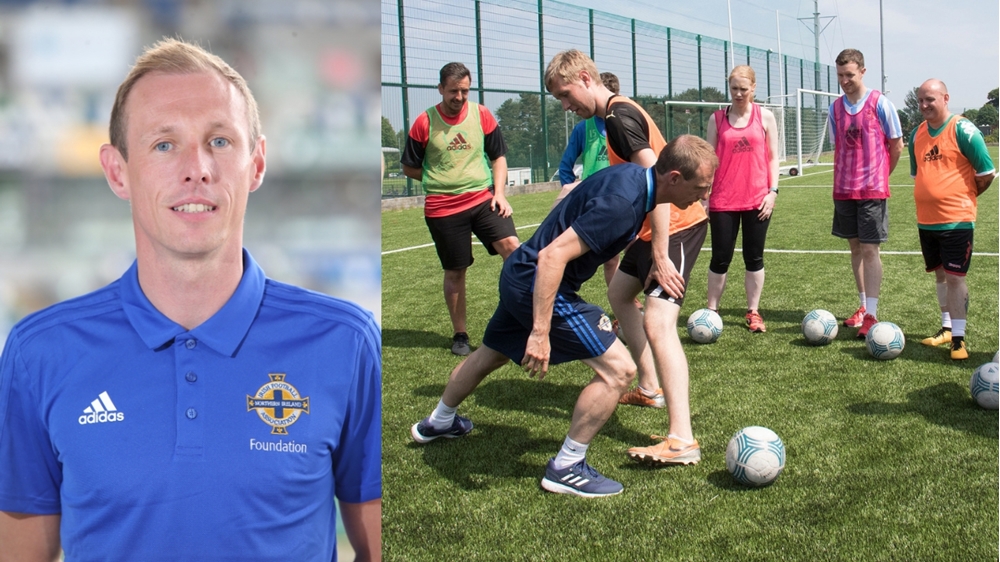 In an ongoing Q&A series we are highlighting the people who make the Irish Football Association tick.
Name: Jordan Reid
Job title: Regional Grassroots Development Officer, North and West Belfast.
How long have you worked for the Irish FA/IFA Foundation? 
Eleven years now. I worked for eight years as a Primary Schools Coach on the Curriculum Sports Programme and I've been an RGDO for the past three years.
What's your role within the association/foundation? 
My role as an RGDO is to increase participation within grassroots football and it covers everything from children starting to play to adults staying involved at an older age. 
It is a wide ranging role and could see me working with clubs to help their governance and improve standards and empower their volunteers or I could be involved in running a small-sided games programme for young people, coach education, football camps, a Back In The Game (veterans) programme or running workshops around mental health. 
I basically try to help clubs and communities as much as I can.
Describe a typical working day for you. 
No two days are the same. I could be in the office working on the Belfast Games Development Programme, organising fixtures or doing admin one day then out delivering coach education or mentoring with clubs the next. 
A lot of what I do is planning and organising programmes and making sure things run smoothly.
What's the best thing about your job? 
I love the variety and that it's not all office based. I love being out and about talking to clubs and meeting people, especially when delivering coach education and mentoring where I can really help people and pass on my knowledge and experience. 
Football clubs are an important part of communities and we're not just trying to develop footballers but develop well-rounded respectful young people - and if I can help clubs do that then great. 
One of the best things though is on a Saturday morning or at football camps when I see young kids just having fun and playing football with a smile on their face. That's really what football should be about.
What are the biggest challenges you face in your role? 
The Belfast Games Development Programme that myself and Craig Bowers run now has more than 190 teams across four age groups, playing at 11 venues every week. Logistically this can be very tough at times.
Organising ability bands, fixtures and getting venues can be difficult but we manage. We still have a few issues around some coaches and adults at games forgetting that it is meant to be fun and developmental but we are slowly getting the message across. 
Planning and organisation of other programmes is not always plain sailing, however it's my job to work with people and solve these problems.
What are you most proud of? 
My three kids. Work-wise, despite the difficulties, I'm probably most proud of the Belfast GDP, including the introduction of two girls-only age groups. 
We are giving more than 2000 children the opportunity to play football every week in a fun and safe environment and I think that's amazing.
Where did you work – and in what roles – before you joined the Irish FA? 
I worked in a health club for a couple of years designing exercise programmes for clients, then another few years in the same place as the sales manager. 
Are you/were you involved in football beyond your role with the association? 
I have coached on most programmes at the Irish FA including both the boys' and girls' county excellence programme and the schools' player development programme. Outside of the association I started coaching in 2003 at various clubs, such as Knockbreda, Belvoir Girls, Linfield Academy and Dundela. These coaching roles involved kids aged U10 to U20.
Are you involved in any other sports?
At school I would have played every sport going but not any more. My biggest passion now outside of football is music, either listening, going to gigs or trying to play guitar.
Where did your love of football emanate from? 
My dad was always involved with teams and I used to go everywhere with him. He was good friends with Irish League players and as well as going along to watch the games I used to love sitting in the players' lounge with them after and listening to their stories.
I grew up right beside Paisley Park and was always playing in the street or round there kicking a ball. Then there was the Shankill Summer League in Woodvale Park which was always buzzing so I caught the football bug from being in and around it all. 
I joined St Andrew's at the age of 10 and got a real football education and met some great people that I am friends with to this day. 
What qualifications do you have? 
I have a BSc (Hons) in Sport, Exercise and Leisure Studies and a UEFA A Licence.
Who (if anyone) has provided inspiration for you during your career? 
Over the years I have attended different training courses or study trips and have met some really interesting and inspirational people. Also working with everyone at the Irish FA on a daily basis and seeing how everyone goes above and beyond to help improve football in this country is amazing. I don't think they get enough credit. Any time I've spoken with The Boss, Michael O'Neill, I've found him to be very intelligent and articulate and I think we're lucky to have that for our national team.
Any other interesting facts about you that we should know?
I was once on a TV show called Friends Like These. I am a massive Oasis fan and one of my most prized possessions is a Time Flies album signed by Liam and Noel Gallagher. I won a competition to be included on the album cover. If you look inside you will see my name.