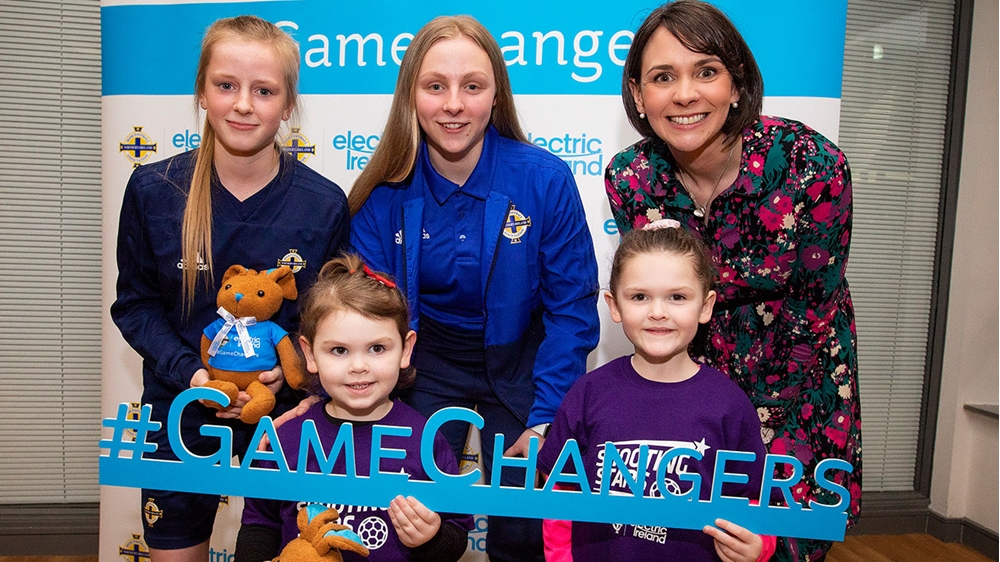 Female footballers from across Northern Ireland gathered
for the launch of the Electric Ireland Excellence Programme.
The Programme forms part of the Irish FA's elite Player Pathway for girls' and women's football and offers comprehensive support to emerging talent across Northern Ireland.
Patrick Nelson, Chief Executive of the Irish FA, commented on what Electric Ireland's commitment means to the sport: "Today's announcement will help aspiring female footballers who have demonstrated skill and talent to achieve their dream of playing professionally, for some girls this will definitely be a game changer.
"Electric Ireland's extension of its support of the female game really speaks to the company's approach since becoming a sponsor in 2017; they have become a true partner to the IFA, working closely with the Association in developing the women's game with great success.''
The Electric Ireland Excellence Programme, which provides elite coaching to young female footballing talent within the age range of 11 to 15 years, runs in Regional Excellence Centres based in four locations across Northern Ireland –Belfast, Jordanstown, Limavady and Cookstown. 
In addition to expert training and quality coaching, the Programme offers bespoke sessions which help build up the player in their nutritional knowledge and work directly with players families to help create the right environment around the athlete.
Girls are selected by the Irish FA to join the Electric Ireland Excellence Programme on a talent basis. The Irish FA identify girls at clubs, schools, PDP programmes and by recommendations and those with high potential will then compete in trials to determine their success in the programme. The aim is to ultimately create a player pathway for all qualifying girls to reach their maximum potential in women's football. 
Commenting at the launch Clare McAllister, Electric Ireland Residential Manager said: "Electric Ireland is very proud to partner with women's football across Northern Ireland helping to support and celebrate Northern Ireland's game changing female footballing talent.
"Most recently we have been encouraged by hundreds of little girls aged 4-7 years old who, through the Electric Ireland Shooting Stars programme, have played a massive 2,000 hours of football between them over the past four months! Indeed, since becoming involved in the women's sport in early 2017, there has been a 25% increase in participation with upwards to 10,000 girls and women playing every week. 
"This demonstrates that, through our Game Changers campaign, Electric Ireland is achieving its aim of inspiring the next generation of female footballers, now with the addition of the Electric Ireland Excellence Programme we look forward to seeing the next Simone Magills and Lauren Perrys coming through." 
National Women's Coach, Alfie Wylie who runs the programme spoke about the impact Electric Ireland has had on women's football in Northern Ireland and how it's only going to improve from here: "It's a very exciting time for women's football in Northern Ireland at the moment with great thanks to be paid to our partner Electric Ireland. Their support of women's football has made a significant impact in changing the game here in Northern Ireland.
"The tremendous 25% increase we've seen in participation since the partnership began is only set to rise further with the introduction of more player focused programmes like this one.
"The Electric Ireland Excellence Programme creates a player pathway for emerging talent giving them the correct environment and experience they need to pursue women's football professionally; ensuring those with the talent are given the chance they deserve."
Caption: Ellie-Mae Dickson (Excellence Player), Lauren Perry (Snr Women International) Anne Smyth (Electric Ireland) with players from the Shooting Stars programme celebrate the launch for the Electric Ireland Excellence Programme.