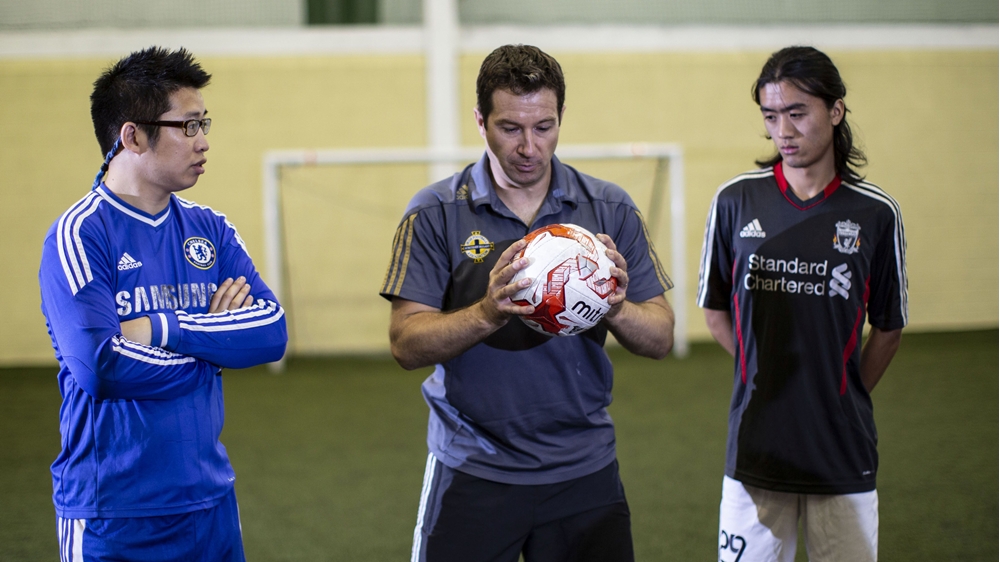 In an ongoing Q&A series we are highlighting the people who make the Irish Football Association tick, including key people in partner organisations.
Name: Kyle Ferguson.
Job title: Senior Lecturer in Coach Education and Management at Ulster University. 
How does Ulster University partner with the Irish FA? 
Just over five years ago Ulster University and the Irish FA started to discuss the potential of developing football-related courses. Those discussions led to the creation of the BSc Hons Football Coaching and Business Management degree.
This is a degree programme jointly delivered at the National Football Stadium at Windsor Park by Ulster University and the Irish FA.
We now have a wider educational partnership with the aim of inspiring future leaders in football. We want to provide a pathway to a career in football.
What's your role within the partnership? 
I lead the Ulster University side of the partnership as the course director for the BSc Hons Football Coaching and Business Management degree. 
This involves managing the planning, design and delivery of the programme while also establishing international opportunities to expand the programme on a global basis.
Describe a typical working day for you. 
I do actually start each day with a plan, but like most jobs in sport things change quickly. 
The main thrust of my job is student-focused to support learning both on the football degree programme and across other degree and Masters programmes. 
I have a remit for global engagement so I'm working regularly with other international partners, mainly in USA and China, to attract students to UU and to create opportunities for our students to gain international experience. 
What's the best thing about your job? 
Working within football isn't really a job! I've been lucky enough to be able to travel around the world because of football. Working with a diverse range of students and partners ensures I am learning every day. I get a chance to see how football is being used in different environments.
What are the biggest challenges you face in your role?
Trying to fit everything into my diary can be an issue. Football brings so many opportunities, none of which you want to miss. Prioritising one thing over another can be a challenge to ensure things are achieved. 
What are you most proud of? 
The success of the students in building a career for themselves within sport and football.
Where did you work – and in what roles – before you joined the university? 
I was a coach development manager in New Zealand working within football. It was an interesting experience to work in a country where football was a minority sport. Before that I was a football development officer for the Irish FA.
Are you/were you involved in football beyond your role with the university? 
I have been involved in football as a coach, administrator and player since a very young age. At the minute I spend a lot of time as a video analyst working with some of Northern Ireland's youth international teams. It's a side of the game that allows me to keep involved and use my coaching experience to hopefully add some value.
Are you involved in any other sports?
I like to go horse riding, although I rarely get the time to do it.
Where did your love of football emanate from? 
The first game I remember watching was the 1985 FA Cup final in which Northern Ireland legend Norman Whiteside scored the winner - and only goal of the game - for Manchester United against Everton in extra time. He then went to the 1986 World Cup in Mexico and I have been a United supporter and GAWA member ever since.
What qualifications do you have? 
Academically I have a sports degree and a Masters in Business Management. From a football perspective I have a UEFA A licence.
Who (if anyone) has provided inspiration for you during your career?
When you have a family you understand that family support is what enables you to do the things you do, whether that's with a word of encouragement or putting things into perspective.
Any other interesting facts about you that we should know?
I'm not sure anyone from the world of academia can be called interesting, however I have completed the London Marathon in under three and a half hours and I have won an Irish title for tetrathlon, which involves cross-country running, swimming, showjumping and shooting.
Image: Ulster University's Kyle Ferguson at a summer camp for Chinese students.