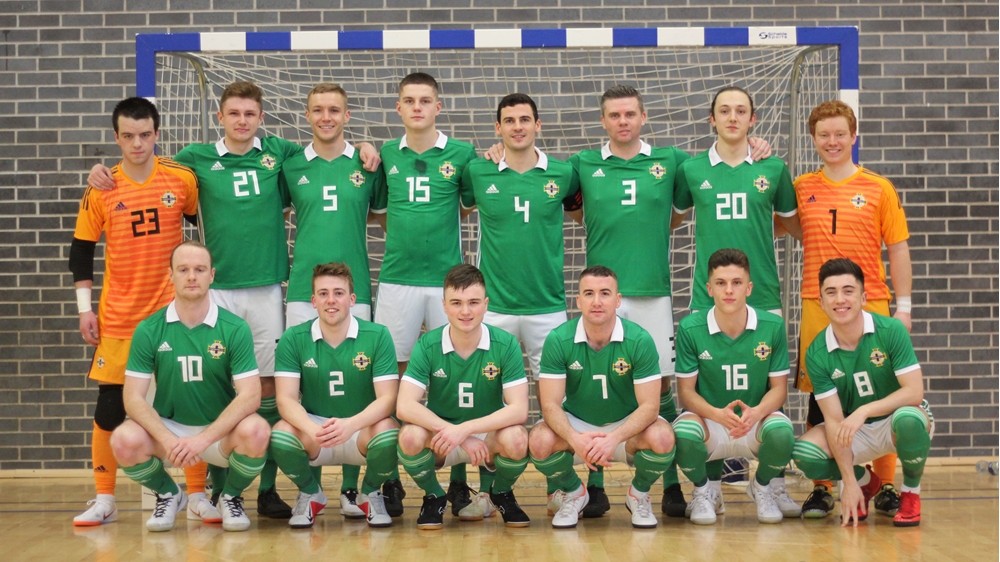 Northern Ireland's senior men's futsal team had a torrid time in their first ever set of FIFA Futsal World Cup qualifiers.
In a mini tournament in Moldova, which acted as a preliminary round for a main round of European qualification, they suffered two heavy defeats and narrowly lost to a team they had defeated back in December.
In their first ever Futsal World Cup qualifier Northern Ireland came up against Finland, a team ranked in the top 30 in the world.
And the gulf in class and experience quickly became apparent as the Finns, who had several professional players in their squad, rattled in three goals in the opening eight minutes before Connor Millar pegged one back for Northern Ireland.
However, the Finns then stepped up a gear and netted another six goals to leave the final score at 9-1.
During the match Finland had 35 chances compared to 12 for Northern Ireland. And the Finns had 15 attempts on target in contrast to Northern Ireland's five. 
The second game was even tougher as hosts Moldova really turned the screw – backed by a vociferous home crowd.
Moldova, who defeated Wales 8-4 in their first game, raced into a two-goal lead inside three minutes. Scott Gunn then pulled one back for Jonathan Michael's side, however that appeared to galvanise the Moldovans and they netted seven times before Connor Millar got Northern Ireland's second goal of the game.
The Moldovans, who also had several professional players in their ranks, continued to keep the pressure on, however, and scored another four before Millar grabbed a late consolation. 
The game finished 13-3, with Tacot and Obada both registering hat-tricks for the hosts, and the stats summed it up: Moldova had 51 chances (24 attempts on target) compared to Northern Ireland's 14 (eight on target). And Moldova went on to top the group after defeating Finland 2-1.
The final game in the mini tournament for Northern Ireland saw them come up against Wales, whom they had defeated 2-0 in the Futsal Home Nations Championship back in December.
Wales took a second minute lead through Naim Arsan before Connor Glenholmes equalised after 12 minutes. Wales had the better of the possession and created more chances and their pressure paid off on 31 minutes when Christopher Hugh scored.
Four minutes later the Welsh extended their lead through Craig Pritchard before Northern Ireland defender John Gibson made it 3-2. 
Northern Ireland struck the woodwork with seconds remaining but the Welsh had done enough to win the game (Wales had 44 attempts/16 on target to Northern Ireland's 21/6).
On their return from eastern Europe, Northern Ireland head coach Jonathan Michael said the Moldovans and Finns were "different class" and that the professional futsal players in their ranks are operating at a much higher level than the amateur players who turn out for Northern Ireland. 
He also said he was disappointed to lose to Wales but noted Northern Ireland are now competing well against the other three Home Nations teams.