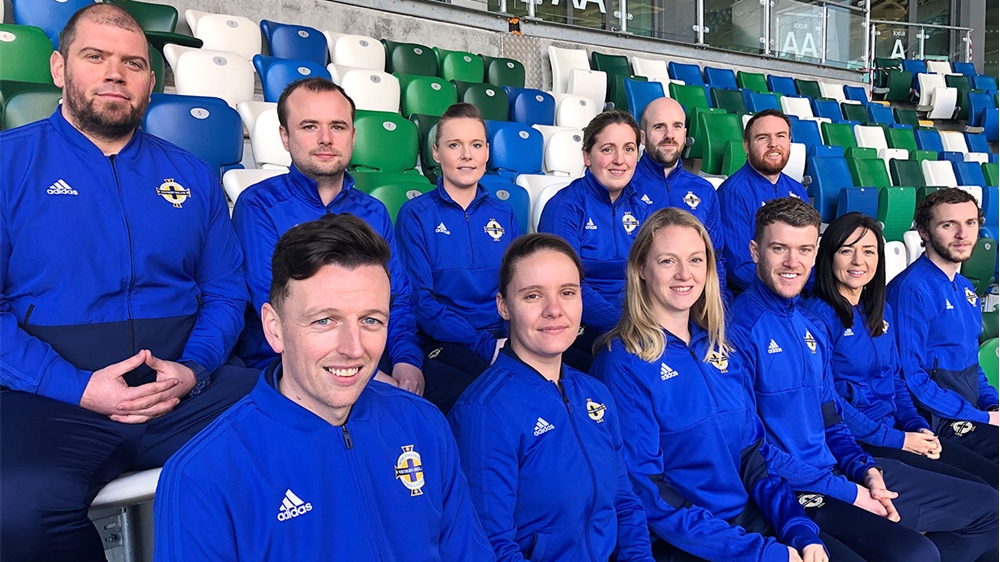 The Irish FA Foundation has recruited 12 staff to deliver schools' football, futsal and grassroots football projects across Northern Ireland.  
The new Let Them Play Officers will operate in Northern Ireland's 11 council areas, with two based in Belfast.  
Their recruitment is a further development in the Irish FA Foundation's objective to put strategic systems in place which will develop young players, whatever their background, gender or ability level, and nurture them to reach their full potential.
Jonathan Michael, Schools and Futsal Manager at the Irish FA Foundation, said: "Our new recruits will deliver an exciting Let Them Play programme. This shows the foundation is continuing to invest to support our aim of increasing the percentage of schools where football is played to 90% by 2020.  
"The knowledge, experience and enthusiasm of the officers is tremendous, and I believe this fun, safe and inclusive programme will inspire participants to develop a lifelong love of the game and will greatly serve the community through football and education." 
The officers will focus on delivering physical education sessions during curriculum and after school time to both primary and post primary school pupils. In addition the officers will support the delivery of school festivals, taster sessions, competitions and assist schools in the completion of the Irish FA's Schools Quality Mark.
Michael Boyd, Director of Football Development for the Irish FA Foundation, said: "The Irish FA Foundation works with partners across Northern Ireland to offer sports participation, health and education opportunities for more than 70,000 young people. We are committed to the successful delivery of our 10-year youth football strategy Let Them Play and these new roles are critical to its rollout across the country."
The Irish FA Foundation's Player Development Programme will also be delivered by the Let Them Play Officers as the foundation seeks to provide clear pathways for the best young talent, both males and females, to maximise their potential.  
In terms of futsal development the officers will be responsible for establishing Game Changers centres which will provide young players with opportunities to expand their knowledge of the game and supplement their current football education provided through clubs and the Small-Sided Games programme.
The Let Them Play Officers will also provide support to the Foundation's Regional Grassroots Development Officers in the delivery of football camps and the Small-Sided Games programme throughout the year.  
And youth football clubs will receive benefits from the Let Them Play programme as the officers will deliver several coach education awards and community relations focused workshops.