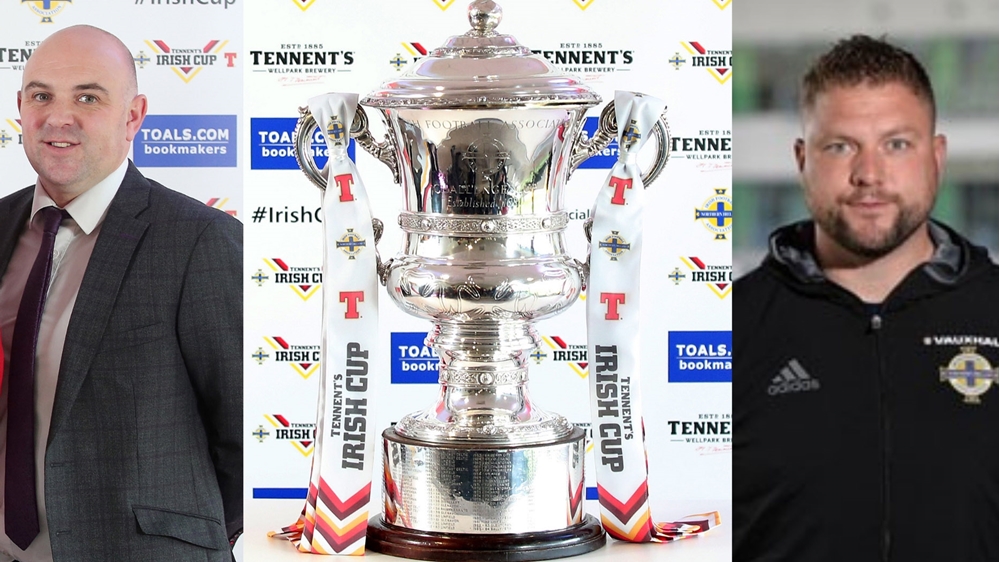 It may not be the glamour tie of the round but tomorrow's Tennent's Irish Cup game between Larne Tech Old Boys and Strabane Athletic means there will be at least one minnow in the draw for the quarter-finals.
And those so-called minnows have declared their sixth round match in Larne tomorrow (Saturday 2 January) will be just as competitive - and entertaining - as other fixtures at this stage of the competition.
Strabane Athletic, who operate in the Northern Ireland Intermediate League, go into the game as favourites as they play at a slightly higher standard than the home team week in, week out.
But Larne Tech OB, from Division 1A of the Amateur League, have shown already in this season's competition that they will be no pushovers at Dennis Harvey Park in Larne.
 In the last round the Larne outfit defeated Championship side Limavady United 2-0 away from home, and they beat Dunloy by the same scoreline away in the fourth round.
Strabane Athletic also had an impressive away win in round five as they defeated Championship side Knockbreda 2-1. And in round four they won 2-0 at home to St James's Swifts.
Larne Tech OB boss Johnny Hastings reckons his side will be marginally up against it when the Co Tyrone team roll into town tomorrow (1.30pm start).
He said: "We have done our homework and we know they are a decent side. They are a big, strong side and we know we will have a game on our hands but the boys are buzzing."
He also said the fact Larne has two teams in the sixth round - Championship side Larne will be facing Crumlin Star at Inver Park (3pm kick-off) - was good for the Co Antrim town.
Goalkeeper Christopher Keenan, who has extensive Irish League experience, and striker Paul Maguire, who has netted 38 times this season already, will be vital cogs in the machine if the Old Boys are going to book a place in the last eight.
"Ideally I would love to draw Larne at home in the next round, but it will be no easy task getting there," Hastings added. 
Strabane Athletic manager Eamon Curry is aware his side are slight favourites in some people's eyes going into the game – but he does not see it that way. He predicts it will be "a good game" between two teams that are evenly matched.
He revealed he is aware of the opposition's strengths, especially striker Paul Maguire, but he has told his side to go out and express themselves.
"Larne Tech have a good manager with good experience. They will be well organised but we are a good footballing side and I will be telling our players tomorrow just to go out and play their usual game. I want them to get on the ball," said Curry.
"The work-rate and attitude of the players has been fantastic this season. We have a mix of great young players and players with Irish League experience. There's a real togetherness in our team and we will be ready for tomorrow's game," he added.