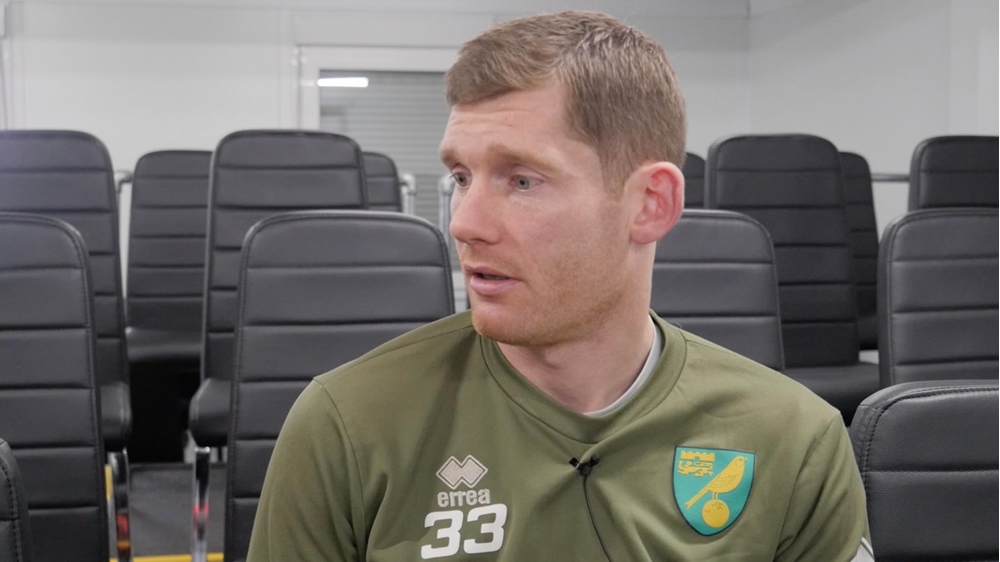 Goalkeeper Michael McGovern may not be a regular starter at Championship pace-setters Norwich City just now, but he's determined to use his influence and experience to push the squad towards their Premier League promotion goal. 
The Northern Ireland stopper was full of praise for his club-mates and, in particular, his international team-mate Jamal Lewis, when we caught up with him at the Canaries' training ground.
"The boys have been flying, I must say. I don't think a lot of people outside of our dressing room expected us to be up where we are at the moment. All credit to the management team and the players. They have been absolutely fantastic," said the 34-year-old.
"We're not getting carried away; we know there's still a lot of work to do but we've put ourselves in a fantastic position and hopefully we can keep it going between now and the end of the season. 
"Obviously, for me, it's difficult when I'm not playing but when I'm not involved I try to support the other goalkeepers who are playing, and I also try to help the young players. I'm maybe not contributing on the pitch, but I try to do my best off the pitch to be a positive influence around the place.
"It would be amazing for everybody connected with the club to win promotion to the Premier League. We've worked extremely hard to get ourselves in this position. We're two thirds of the way through the season and we're top of the league, but we have a little bit more work to do.  If we could get back to the Premier League there would be some celebrations in the summer!"
Asked about the contribution of Jamal Lewis, both to Norwich and Northern Ireland in the past year, McGovern said: "Jamal has been absolutely fantastic. He's a player you can always rely on. You know what you get with him: he's really focused and nothing fazes him. 
"He has a really good mentality and I had no doubts that he would take it all in his stride and he has done. In all of the games he's played, he's been good and I think you can see that he could be playing for Northern Ireland for a number of years to come."
McGovern, who has won 29 international caps to his name, has watched on as Bailey Peacock-Farrell has been handed his chance between the posts during the bulk of Northern Ireland's Nations League campaign but he still feels he has plenty to offer to boss Michael O'Neill.
"I'd been number one for a few years and I've sort of lost my place there recently. But if I'm not playing – and it's the type of person I am – I'll support the lads who are playing. I have aspirations to get back in there and back playing. I feel like I'm good enough to be in the team, it's just basically getting some action club wise, which would be helpful."
McGovern, who produced a heroic performance when NI met Germany in Euro 2016, says our UEFA Euro 2020 qualifying group presents another tough task.  
"It's a difficult group. We've got Germany again and Holland as well. It's tough. They're the two standout teams in the group.
"It's nice for us to be at home in the first two games but I think it's going to be completely different in that the qualification is condensed into one. We have double-headers with almost every get-together, and I think the teams who steer clear of injuries and deal with recovery in between games will have a big advantage over the rest of the teams. 
"The Germany game is what everyone knows me for and it was fantastic and then we played them in the World Cup qualifiers. We know what they're about as a team and likewise they know us but they're a tough nut to crack. They're very, very good but you just never know in football. If they have a bad day and we're at our maximum we always believe we can get a result. And when we play them we'll have no fear going there to go and get the win. Michael has us organised in a way that if we're at our best and they are maybe off it, then we could pull it off."