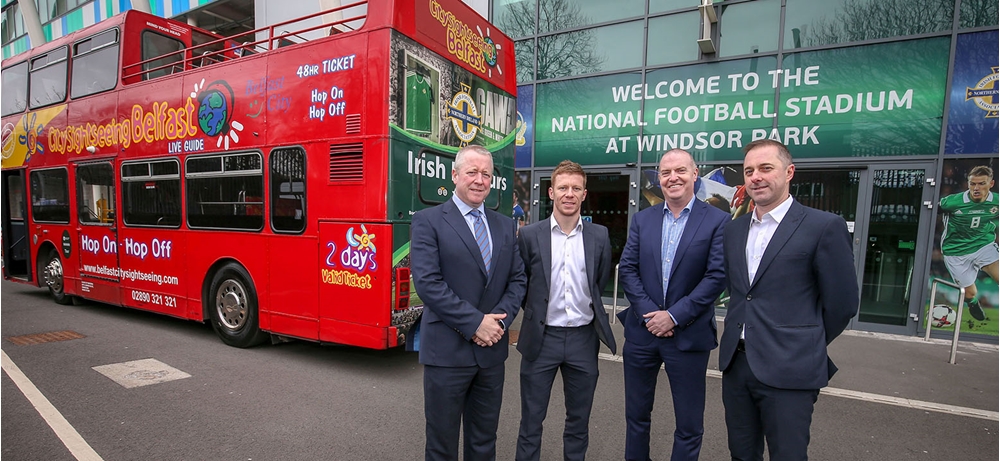 The famous City Sightseeing brand is helping to put the Irish Football Association's Tours on the map.
Belfast City Sightseeing, which is part of the global City Sightseeing network, is now including the National Football Stadium at Windsor Park as an official stop on its extensive tour route of Belfast, joining the likes of Titanic Belfast and Parliament Buildings at Stormont. 
City Sightseeing's bright, cheerful and fun-filled red open top busesarenow a well-known feature in almost 100 locations worldwide which span six of the seven continents. 
The Irish Football Association has forged a partnership with Belfast City Sightseeing which will see stadium tours and the stadium's Education and Heritage Centre highlighted on the back of one of their buses, and there will also be Irish FA Tours branding on-board the company's eight buses that tour Belfast each and every day. 
The Education and Heritage Centre, which tells the story of Northern Ireland football using a variety of media, interactive displays and key artefacts from the 1880s to the present day, is currently ranked at number two out of more than 230 visitor attractions in TripAdvisor's list of the best things to do in Belfast.
Stephen Garrett, manager of the Education and Heritage Centre, said: "It's fantastic for us to link up with such a major player in the tourism industry. We have no doubt this partnership will bring mutual value to both parties. 
"The tie-up with City Sightseeing will help to raise awareness of the stadium as a growing visitor attraction. The Irish FA has a rich history and a great story to tell."
Paul Cunningham, Managing Director of Belfast City Sightseeing, said: "Over the past year or so more and more visitors to the city have been asking us about The National Football Stadium at Windsor Park and the Education and Heritage Centre so it made perfect sense for us to include the stadium on our 20-plus list of the most prominent landmarks and attractions in the city. 
"Our guides will all be undertaking familiarisation visits to the stadium, which means they will be well informed when visitors to the city ask them about what the stadium has to offer."
Image: Announcing the tie-up between Belfast City Sightseeing and Irish FA Tours are (from left) George Grimley from Belfast City Sightseeing, the Irish FA's Stephen Garrett and Paul Cunningham and Jim Maguire from Belfast City Sightseeing.