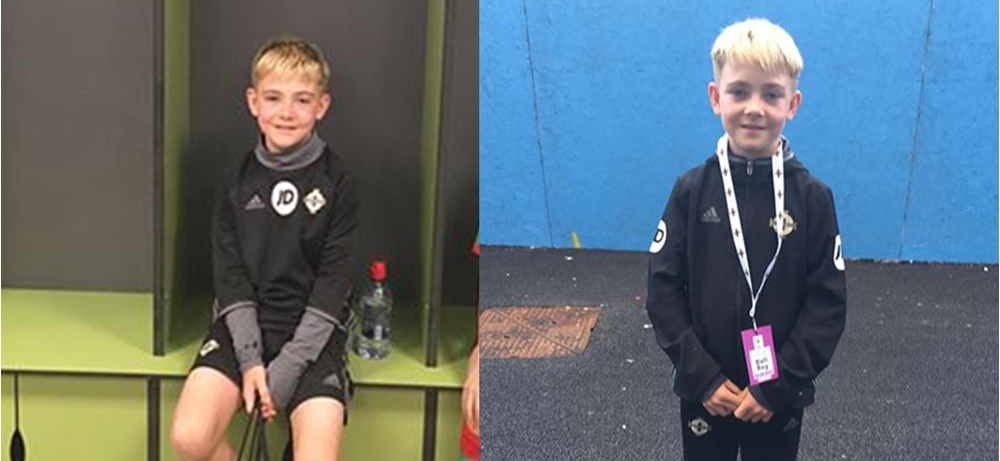 Our first Fan of the Month in 2019 goes to a young Northern Ireland fan who loves nothing more than watching Northern Ireland! 
Kyle Robson has been football and Northern Ireland mad ever since he was old enough to kick a ball. A keen footballer himself, he even took part and impressed in a kick-up competition held at Victoria Square to promote the Women's Under-19 tournament last year. 
Unfortunately Kyle has recently developed a condition called Perthes disease which can affect 1 in 9,000 children. Perthes' disease is a condition affecting the hip joint making it very difficult to walk comfortably. 
Kyle told us one of his footballing heroes is Steven Davis and he can't wait to see him get back out onto the pitch with the captain's armband when we face Estonia and Belarus at home at the end of March. 
He said: "I love the atmosphere at the matches and also the great supporters."
We wish Kyle a speedy recovery and hope to see him back at the National Stadium at Windsor Park again soon!
You can see a selection of images of Kyle in the gallery at the bottom of the page. 
If you would like to know more about Perthes' disease and the treatment required if you know someone affected, click here. 
Do you know someone that deserves to be our Fan of the Month? Contact us on social media to submit a nomination! 
Twitter: @northernireland
Instagram: @northernireland
Facebook: facebook.com/northernireland