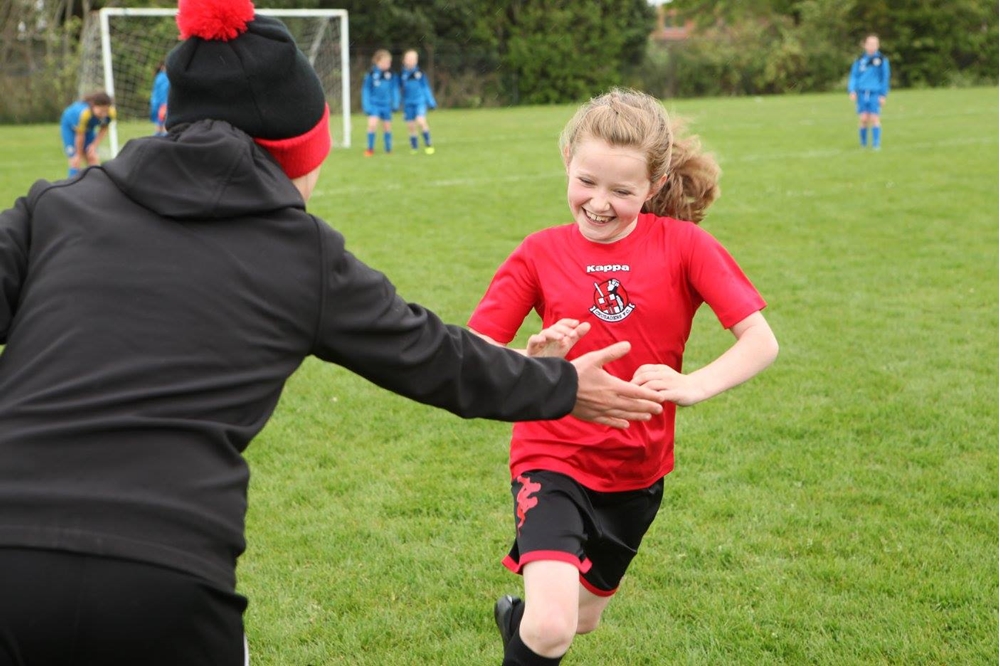 Buy-in from clubs, councils, young players, a supportive sponsor and Irish FA staff has enabled the Small-Sided Games concept to thrive in Northern Ireland.
That's the view of Ian Stewart, the Irish FA Foundation's Grassroots and Development Manager, who is delighted with the rise in the number of developmental games being staged for boys and girls aged five to 11 across the country each week.
"The growing popularity of Small-Sided Games demonstrates our continued partnership with both councils and clubs with small-sided games facilities. It is an area of growth and urges us to focus on future support strategies to maintain and increase participation levels," he said.
SSG, as it is known, has been part of the football fabric in Northern Ireland since 2008, although back then only a handful of SSG development centres existed.
The number of SSG venues across the country has increased to 64 – and they can be found in all 11 council areas. Last year there were 1392 SSG teams (up 11% from the previous year) featuring 13,752 players (a 12% increase from 2017).
Girls' participation also grew in 2018, partly due to girls-only development centres in Belfast and Cookstown. There were 70 girls' teams and 724 female players.
The concept behind Small-Sided Games is pretty simple. By keeping pitches small and teams small in terms of the number of players on the pitch at any given time means those taking part will get to touch the ball more, be more comfortable on the ball and in turn become more skillful.
Other aims are for young players to have more decision-making experiences during a game and to become more physically efficient on the pitch. 
In addition the foundation wants young players to have more involved playing time in a game, more experience in attack and defence, more opportunities to score goals and, because there are no set positions, more freedom of expression on the park. 
"Ultimately the small-sided game is an environment that promotes development of our young football players, to make them technically better and better all-round players," said Stewart.
SSG centres currently cater for players aged five to 11. The younger age groups (U6 to U8) play five-a-side or six-a-side, while the middle age groups (U9-U10) play seven-a-side. The older age groups (U11 and U12) are encouraged to play nine-a-side. The younger age groups usually play with a Size 3 ball, while the other groups use Size 4 balls.
Games involving U6 to U8 players feature three periods of 12 minutes, seven-a-side matches are three periods each lasting 15 minutes and the U11s and U12s play two halves which last 25 minutes apiece.
There is no offside in small-sided games and roll-on, roll-off substitutes are also encouraged so everyone gets plenty of game time. 
"At the SSG centres we want to see players getting more touches of the ball and to have more one v one situations," said Stewart.
"I think the centres are successful because the players really enjoy them and have fun when playing the game. Also key is the buy-in from clubs, our development officers and the various councils across Northern Ireland. The input from McDonald's, as main sponsor, has also been invaluable," he added. 
Another important aspect of SSG centres is that parents are urged to encourage the players and not criticise them. 
Stewart explained: "The sound heard most at games should be the sound of children playing. What football-playing children need from parents is unconditional support and encouragement, not advice and criticism. Coaching should be left to coaches." 
The Silent Sidelines philosophy is often deployed at the centres. It aims to eradicate all negative shouting and coaching from the sidelines by ensuring the only voices heard during games are those of the players. The overarching aim is to allow kids to make their own decisions and to learn from their own mistakes.
"If you let children play the game as they see it, let them take chances and fearlessly make mistakes then their decision making will improve and the game will become their best teacher," the Grassroots and Development Manager said.
"A competitive environment at these age levels should not be results orientated. It should instead encourage decisions from players and coaches alike that focus on performance rather than outcome, promoting ball skills, inventiveness and decision making," he added.