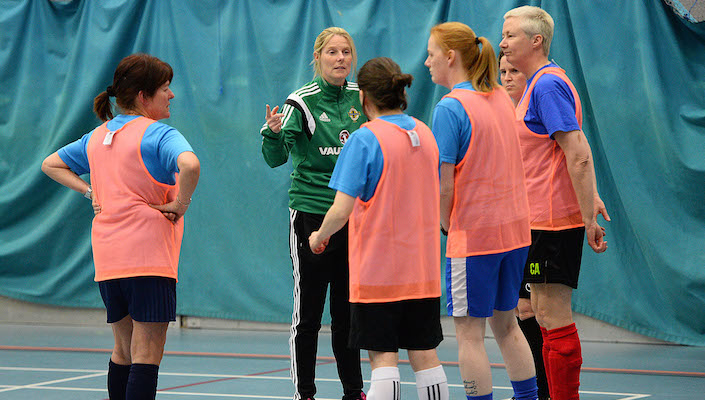 Friday night saw a continuation of the Irish FA's 'Back in the Game' Regional Football Festivals at Shankill Leisure Centre.
The festival was attended by 40 women over 30 years of age which aims to encourage women and men to get back into playing football. The Irish FA has implemented the festivals at regional and national levels as part of a UEFA initiative which aims to increase the recruitment and retention of footballers at all ages.
The regional festivals, which are taking place across Northern Ireland, will see many of the teams entering awarded full team kits.
Part of the festivals are nutrition and healthy eating workshops, which will be delivered by the Irish FA for all participants.
Irish FA Grassroots Development Manager Ian Stewart has led on the delivery of the festivals and is delighted with the number of participants.
He said, "It is great to see such a fantastic response from participants at our 'Back in the Game' festivals. Masters football is a great initiative to be involved in and we would encourage even more people to come along."
Irish FA Women's Domestic Football Manager Gail Macklin coordinated the women's festival and looks forward to the impact it will have.
"The Irish FA is committed to build a culture of lifelong involvement in football and encourages the retention players in the game.  We are excited that the 'Back in the Game' Women's Regional Festival took place in the Shankill Leisure Centre." 
The 'Back in the Game' National Football Festival will take place from 12pm – 4pm on Saturday 28th May at Valley Leisure Centre. This event will include a fun run and family activities and everyone is welcome to enter under the categories of female over 30, male over 35 and male over 45.
Regional festivals will take place at the following locations, to enter please contact your Regional Grassroots Development Officer.