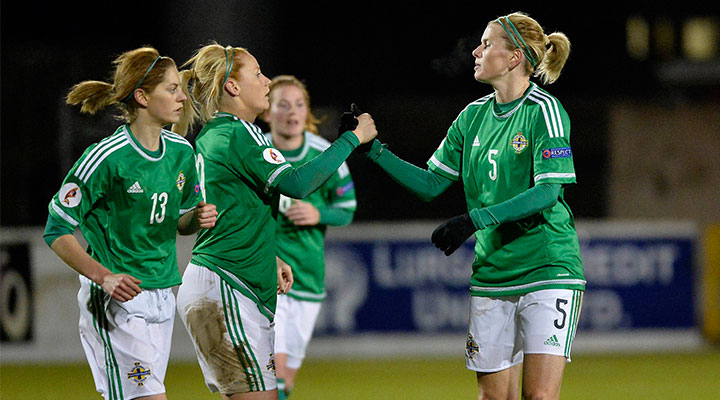 Northern Ireland captain Rachel Furness is relishing the thought of taking on Italy as the Senior Women's team continue their UEFA European Championship qualifying campaign on Tuesday evening in Reggio Emilia, near Parma.
The Italians are ranked 14th in the world by FIFA, some 48 places higher than Alfie Wylie's squad, but this fact doesn't worry the experienced Furness who recently collected her 50th senior cap.
"We're the underdogs going into most games in this group but I personally love being the underdog.
Other teams don't know what to expect but I like to create the unexpected," said the Sunderland midfielder.
"I love going into games like this, it makes us hungry knowing that we are the underdogs. I like to try and step up to that mark."
Wylie's side got their campaign off to a great start back in October with victory over Georgia in Tbilisi before falling to defeat against Switzerland at the end of last year, a game during which Furness scored a goal of the season contender when she lobbed the 'keeper from some 40 yards.
Northern Ireland were due to be in action last Friday night against the Czech Republic but that game, at Mourneview Park, was postponed due to a serious accident on the M1 that delayed not only the team but the match officials too. No new date has yet been arranged.
Northern Ireland:

Goalkeepers:
Jacqueline Burns (Mid Ulster Ladies), Tiarna McKenna (Cliftonville Ladies)

Defenders:
Ashley Hutton (Linfield Ladies), Hayley Crackle (Aston Villa), Julie Nelson (Crusaders Strikers), Laura Rafferty (Chelsea Ladies), Rachel Newborough (Doncaster Belles)

Midfielders:
Rachel Furness (Sunderland), Marissa Callaghan (Cliftonville Ladies), Ciara Sherwood (Millwall Ladies), Simone Magill (Everton Ladies), Trudi Harbinson (Cliftonville Ladies)

Forwards:
Sarah McFadden (Durham City Ladies), Avilla Bergin (Tottenham Hotspur Ladies), Kirsty McGuinness (Linfield Ladies), Jessica Foy (Glentoran Belfast United), Cathy Hyndman (Sion Swifts), Jade Lindsay (Celtic), Lauren Brennan (Sion Swifts)