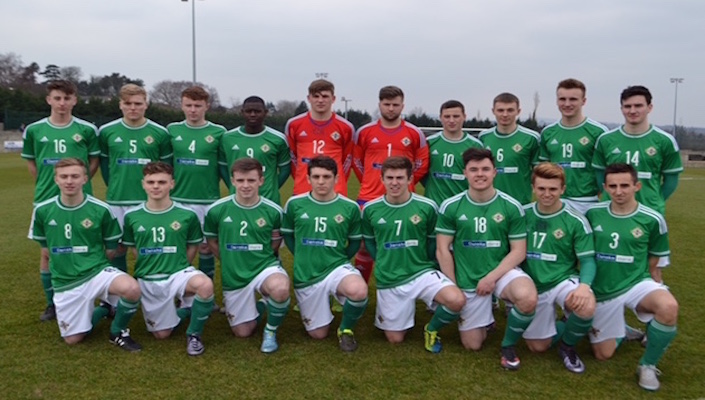 The Northern Ireland Schools Under 18 team takes on Wales at Comber on Thursday 14 April, kick off 4.30 pm, in their final game of the Inspiresport Centenary Shield competition.
The team has already drawn 1-1 against Scotland in Glasgow and last time out secured a scoreless draw against the Republic of Ireland in Arklow.
Unfortunately, a 2-1 defeat by England at Comber last month ended any hope of regaining the Centenary Shield. England has already clinched the title thanks to 2-1 victories over Northern Ireland, Scotland and Wales and a 2-2 draw against the Republic of Ireland but Wales lie in second place after recording a 1-nil win away to Scotland.
Northern Ireland has a tremendous record against Wales having lost only twice, both times away from home. The last defeat came in 2001 and since then in 10 meetings Northern Ireland has won 8 matches with two drawn.
Northern Ireland Under 18 Managers Conor Marlin and Frankie Wilson will be eager to maintain the excellent record against Wales. Frankie Wilson commented "By all accounts this is the best Welsh side for many years and so we are expecting a strong challenge. They recorded a superb 1-0 victory in Scotland and were unlucky to lose by a late goal to England. They are currently in second place in the Centenary Shield and will be keen to secure their best finish in the championship for many years."
Conor Marlin added "Adam McCracken is injured. He has been an outstanding stalwart in defence and his loss will be a blow to us but the good news is that David Parkhouse who missed the games against England and the Republic through injury is now fit and his strength and work rate will give us added impetus. The team has not enjoyed the best of luck this season, being denied victory in Scotland with a good goal disallowed for offside while some controversial decisions went against us in the Republic game. We will be going all out for victory to maintain our record against the Welsh."
The Northern Ireland Schools' Football Association is offering free entrance to any school or youth group wishing to attend the match. Any group wishing to gain free entrance should send their details by email to Edwin Ferris, NISFA Treasurer, at edwinferris@yahoo.co.uk to obtain a group permit.
Northern Ireland Under 18 Squad: Jack Ferguson, Reece Kane, Ronan Wilson, Caolan Marron, Karl Hamill, Ryan Nimick, Michael Kerr, Ronan Young, Lloyd Anderson, Jonathan McCaw, Patrick Cafolla, Matthew Henry, Reece Neale, Joshua Connery, Salou Jallow, Nathaniel Ferris, David Parkhouse, Timmy Browne.