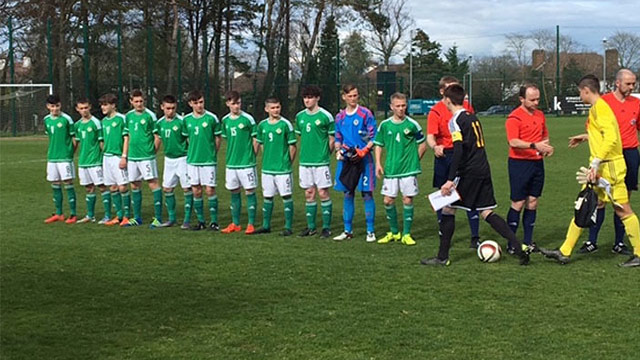 Northern Ireland U15's faced a tough test in their first international game at home to Belgium. 
The match kicked off at a sunny Queen's and it was the Belgian team that took the initiative from the outset.  The away team settled earlier and controlled the possession in the opening stages of the first half. 
They were rewarded for their high pressing game when Gabriel Lamonie raced clear of the NI defence and dispatched a low drive into the bottom corner on the third attempt after two great saves from NI goalkeeper Scott Pengally.
Northern Ireland tried to respond straight away when Ben Wilson ran clear however could not get by Nick Shinton in the Belgium goal.  
The away team then raced into a two goal lead shortly after when Yorbe Pavlovic delightfully controlled a cross field ball and stroked the ball past Pengally in goal.  The Belgian dominance continued into the final stages of the first half when Damjan Pavlovic took the ball in midfield and let fly with a 30 yard strike into the top corner to give the Belgians a 3-0 lead.
Northern Ireland came out late into the second half and looked like a different team had entered the field controlling early possession and got the reward when Conor Farrelly was taken down in the box for a penalty.  Ben Wilson stepped up to get Northern Ireland on the scoresheet. 
Northern Ireland dominated the second half and should have got another goal back when Farrelly crossed for Ben Wilson at the back post who looked certain to score only for the goalkeeper to make a great save.
Northern Ireland kept pressing into the latter stages of the second half and were caught at the back when Gabriel Lamonie got his second from a deflected shot from inside the box. 
Northern Ireland Team : Pengally, McKeown, McClellend, Conlon, Galbraith, Warnock, McEneff, Farrelly, McLaughlin, Wilson, Corbett. Subs : McLaughlin, Smith D, Curran, Smith M, McAdorey, Ferris, McGarvey, Conn, Glover