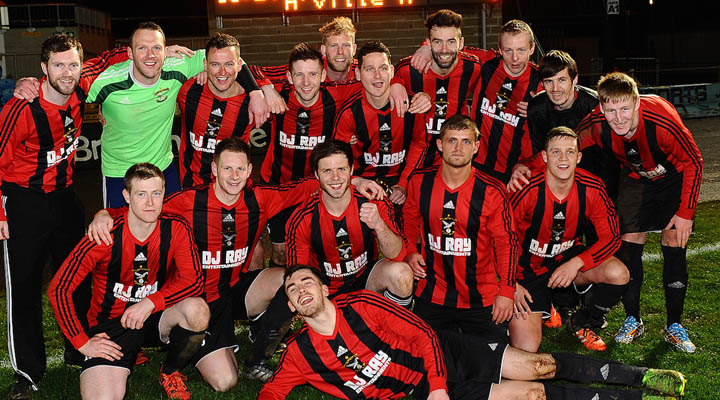 Tonights Semi Final of the Irish FA Junior Cup saw a Ballymena derby between Harryville Homers and Carniny Rangers at Ballymena showgrounds.
The match started at a high tempo and Harryville were up for the challenge and it only took them 4 mins to open the scoring from a corner that Alan Rainey met with his head and Harryville were 1-0 up.
Within 7 minutes the same player found himself in the 18 yard box with a 1v1 chance but just couldn't get the ball out of the muddy pitch. For the first 20 mins it was all Harryville but then the flow changed in favour of Carniny and they had some chances but again the pitch was not conducive to flowing football.
The First Half finished with Carniny on top but both teams were glad of the break.
Half Time: Carniny Rangers 0-1 Harryville Homers
The Second half saw Harryville start in the same mode as they had did in the 1st half with another goal from that man Rainey on the 54th min.
Again Carniny came at them and had a few chances but within 4 mins (58) Harryville had put the tie beyond Carniny with a goal from Paul McNeill. Harryville were cruising and the final nail in the coffin was Jason Logan's goal from inside the box after 78 mins to put Harryville 4-0 up and there was no way back for Carniny.
Full Time: Carniny Rangers 0 - 4 Harryville Homers