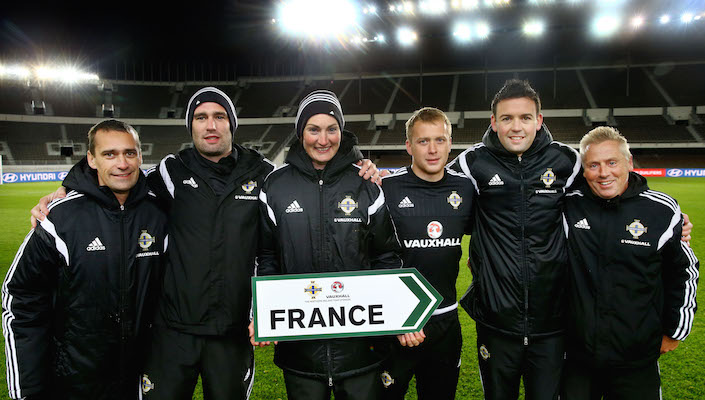 Michael O'Neill and his players have rightly received plenty of plaudits for reaching the European Championship Finals. But they would all agree the backroom staff also played a key role in helping Northern Ireland qualify for their first major tournament in 30 years – and will do so again in France this summer. In the run-up to Euro 2016 we are highlighting the unsung heroes who make up the team behind the team…
Name: Caroline Woods
Position: Head Physiotherapist
Once a Northern Ireland player is injured on the pitch, and the referee indicates he requires treatment, the first person you will see running onto the playing surface is Caroline Woods.
As head physiotherapist for the Northern Ireland team, it is Caroline's job to quickly assess the injury and let both the team doctor and Michael O'Neill know if the player is able to resume or will have to come off.
However, that's only a tiny part of what the head physio role entails.
Off the pitch she mainly focuses on reducing injury risk as well as the assessment, treatment and management of injuries.
She liaises with the team's sports scientists each day to build a picture on each player's fitness levels.
Caroline also communicates with the players' clubs and meets with club physiotherapists to gather information on players and find out if they are undergoing any treatment for muscular injuries and so on.
She explained: "You have to remember that the players are really only on loan to us from the clubs so we have to ensure we look after their players. We aim to provide a good standard of care. Player welfare is paramount."
The physios in the Northern Ireland set-up are constantly updating equipment and techniques to ensure players are game ready.
Caroline pointed out: "Sports medicine is evolving all the time. Continuing professional development is a requirement in our job. You simply have to be up to date with the latest techniques. I spend a lot of time doing courses and I am constantly learning."
Hamstring, calf and other soft tissue problems account for most of the players' injuries, but the Northern Ireland physios can pretty much turn their hand to anything.
She added: "We pride ourselves on being very vigilant. We constantly monitor the players and tailor programmes to suit their requirements.
"You have to be objective and know your stuff. You have to know your players. What works for one player might not work for another. We even devise programmes to help players when they get back to their clubs.
"Ultimately we are here to maximise players' time on the pitch, whether it is training or playing games."
The 39-year-old has a physiotherapy degree from the University of Ulster Jordanstown and a Masters degree in Sports Science from Trinity College Dublin.
Her first experience of working with a Northern Ireland team came shortly after she graduated in the summer of 1998 when she looked after the Elite (Under-19s) team at the Milk Cup.
The first five years of her physiotherapy career were spent in England with Bristol City, the Football Association, the English Institute of Sport and finally at the Manchester United Academy.
In 2004 she returned home and began working at Queen's Sport in Belfast where she mainly looked after athletes, Gaelic Games players and rugby players.
That year she also got involved with the Northern Ireland set-up after a chance meeting with former U-19 manager Roy Millar.
She mainly looked after the U-19s and U-21s but when Nigel Worthington was Northern Ireland boss (2007-2011) she also got to work with the senior side for a short period when Terry Hayes was unavailable.
And once Terry retired at the end of 2011 Caroline took over as head physio with the seniors.
Away from her duties with Northern Ireland, Caroline works in private practice with a company called Physiotherapy Works based in Naas, Co Kildare, and also works with the Dublin-based Irish Institute of Sport.