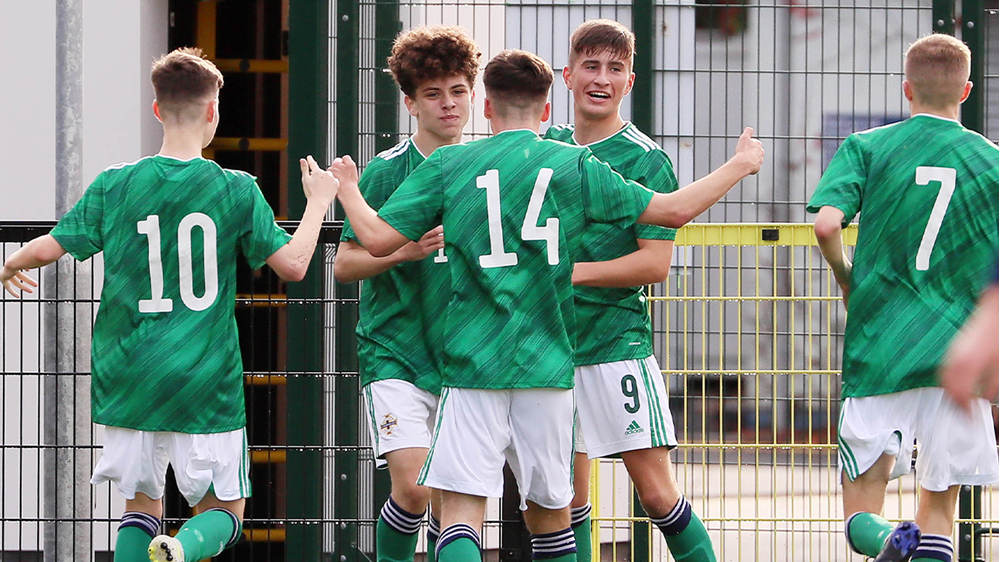 Northern Ireland recorded their first success of the 2021 Victory Shield thanks to a 1-0 victory over Scotland in Belfast.
Liverpool prospect Kieran Morrison netted the only goal of the game at Blanchflower Stadium, the new home of Harland and Wolff Welders, and it was enough to give Sean Paul Murray's squad the edge over the visitors.
Sam Kane was superb in goal for the Scots, denying Northern Ireland on several occasions – including from the penalty spot in the first half.
With 18 minutes on the clock it was the hosts who broke the deadlock when Theo McToal's measured pass down the right set Morrison racing down the channel and from inside the box he produced a fine low finish with his left foot to beat Kane.
Seven minutes later the hosts had a golden opportunity to double their advantage when referee Aidan Burns pointed to the spot after frontman Jay Dalzell, in on goal, had been felled in the area. Up stepped Brendy Hamilton but his effort was saved by Kane who guessed correctly, diving low to his left.
Dundee United's Rory MacLeod went close with a shot from distance just before the interval, but it was Murray's side who had the advantage at the break.
Early in the second session Scotland had the ball in the net when Daniel Cummings broke through the home defence but it was ruled out for offside.
Stopper Kane was called into action again on 53 minutes when, at full stretch, he appeared to touch Rhys Walsh's looping free-kick from the left on to the bar.
Scotland's Lennon Millar then tried his luck with a free-kick of his own from distance but his effort went straight into the arms of Mason Munn.
The home 'keeper again denied Millar as he parried his fierce left foot shot away midway through the second half and seconds later Scotland had a penalty appeal waved away.
Sub Jay McDowell's shot from the left was then ably dealt with by Kane before Francis Turley hooked the ball over the top to set Ciaran O'Hara racing through. The Derry City teenager showed great strength and power to get in on goal but he was denied by Kane who produced yet another solid stop.
In the dying embers of the game Cummings could have levelled matters for Scotland but just when he pulled the trigger to strike he was denied by a brilliantly timed challenge from Northern Ireland defender Joshua Briggs whose side held out for the win.
Northern Ireland: Mason Munn, Brendan Hamilton, Kyle McCloskey, Joshua Briggs, Cormac Austin (Ben McGonigle 49) (c), Francis Turley, Ryan Donnelly, Jay Dalzell (Ciaran O'Hara 49), Ryhs Walsh (Jay McDowell 65), Theo McToal, Kieran Morrison (Callum Burnside 65). Subs not used: Jack Wilkins, Adhamh Patton, Oliver Crowe, Callum Cowan, Cole Brannigan.
Scotland: Sam Kane, Josh Dede, Mitchel Frame, Alasdair Davidson, Rory MacLeod (Alfie Bavidge 45), Daniel Cummings, Max Ross, Bailey Rice (c) (Lennon Millar 45), Gabriel Forsyth (Kyle Ure 55), Ewan Simpson (Jacob MacIntyre 66), Cameron Sullivan (Rudi Molotnikov 66). Subs not used: Rory Mahady, Murray Campbell, Kerr Robertson, Alexander Hutton.