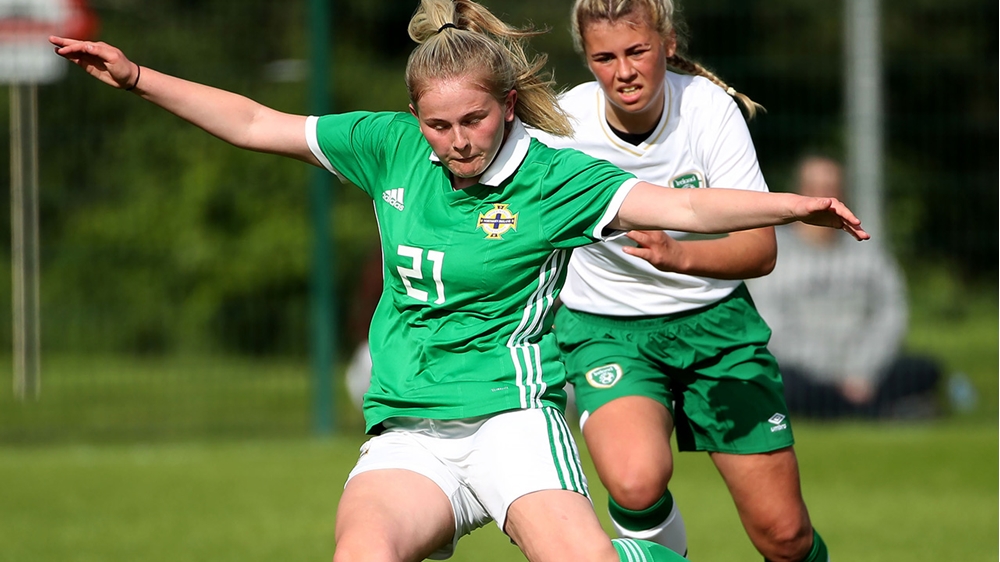 Northern Ireland's Women's Under-19s will be in action in Women's U19 Euros 2022 qualifiers this week.
Switzerland, England and the Republic of Ireland are set to provide the opposition in what is a tough qualifying group.
The Group A5 mini tournament is being hosted by the Republic, with the games staged in Limerick.
Alfie Wylie's side warmed up for the Euro qualifiers with draws in two away friendlies (2-2 and 1-1) against Wales WU19s last month. 
The Northern Ireland WU19s manager said: "We know it's going to be a huge challenge, however it's a great opportunity for the girls who have aspirations to have a full-time career in football to measure themselves against teams that are ranked much higher than us."
Game one will see Wylie's side take on Switzerland at Jackman Park in Limerick on Wednesday (20 October). The game is scheduled to kick off at 2pm.
And they will be playing England the same day as the senior women take on England Women in a FIFA Women's World Cup qualifier at Wembley – on Saturday (23 October). Jackman Park is again the venue (2pm start).
Their third and final game is next Tuesday (26 October) at Market's Field in Limerick against the tournament hosts (1pm start).
A new format has been introduced for WU19 and WU17 Euro qualifiers which replaces the old qualifying and elite rounds.
The competition still features one-venue mini tournaments but now includes two leagues (A and B) with promotion and relegation leading to the 2022 finals.
Under the new format last-placed teams in each League A group mini tournament will be relegated in Round 1, while the winners of each mini tournament in League B and best runner-up will be promoted.
In Round 2 - to be played next spring - the seven group winners in League A will qualify for the final tournament.
After Round 2 the winners of mini tournaments in League B will be promoted and the last-placed teams in League A will be relegated for Round 1 of the next edition of the tournament. Czech Republic is scheduled to host the WU19 finals next year.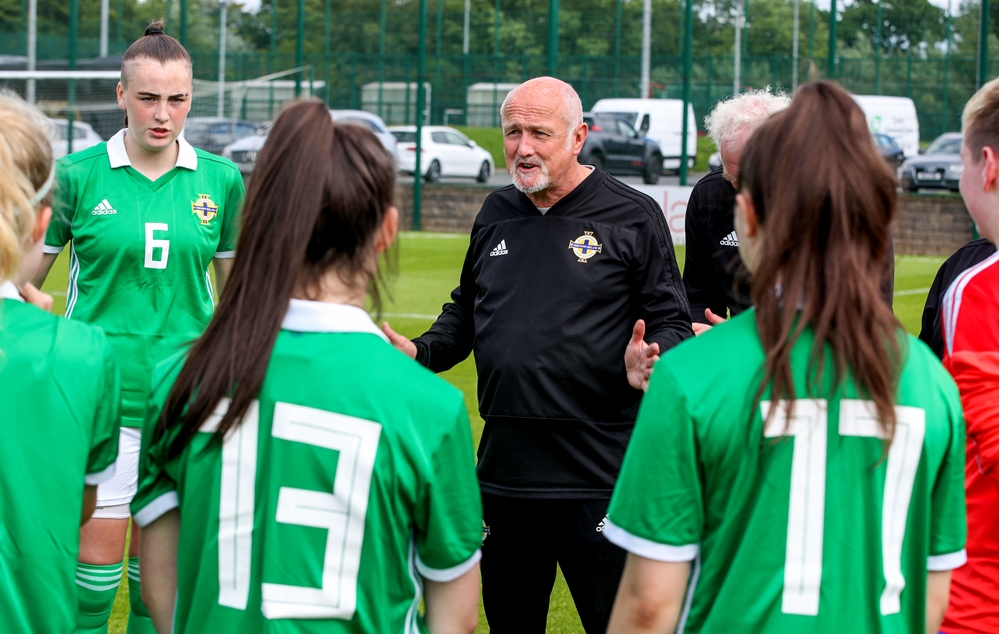 "We are delighted to be in the top league under the new format. It shows how well our underage teams have done in recent years, but effectively it means we have been thrust into the elite round first and will be up against some top, top sides. It will be great for the girls' development," Wylie pointed out.
The Northern Ireland WU19s boss has brought 20 players to Limerick compared to the 22 that featured in last month's friendlies in Wrexham. 
Lisburn Rangers defender Erin McGreevy has recovered from an injury to return to the fold.
Missing out this time are Kathryn McConnell (Linfield Ladies), Freja Scott (Norwich City Women) and Aine Gorman (Sligo Rovers). Aimee Neal (Sion Swifts Ladies) was a late withdrawal due to injury. 
The Northern Ireland WU19s squad for the Group A5 mini tournament:
Goalkeepers - Lilie Crooks (Mid Ulster Ladies), Rachael Norney (Cliftonville Ladies). 
Defenders - Tierna Bell, Ella Haughey and Erin McGreevy (all Lisburn Rangers), Fi Morgan and Shona Davis (both Cliftonville Ladies), Jane McMaster (Linfield Ladies).
Midfielders – Abbie McHenry, Grace McKimm and Erin Montgomery (all Cliftonville Ladies), Helen Parker and Mia Little (both Lisburn Rangers), Cara Mervyn (Glentoran Women), Zoe Rodgers (Crusaders Strikers). 
Forwards – Eve Reilly and Ellie-Mae Dickson (both Lisburn Rangers), Katie Dickson (Linfield Ladies), Cora Chambers (Sion Swifts Ladies), Darcy Boyle (Crusaders Strikers).