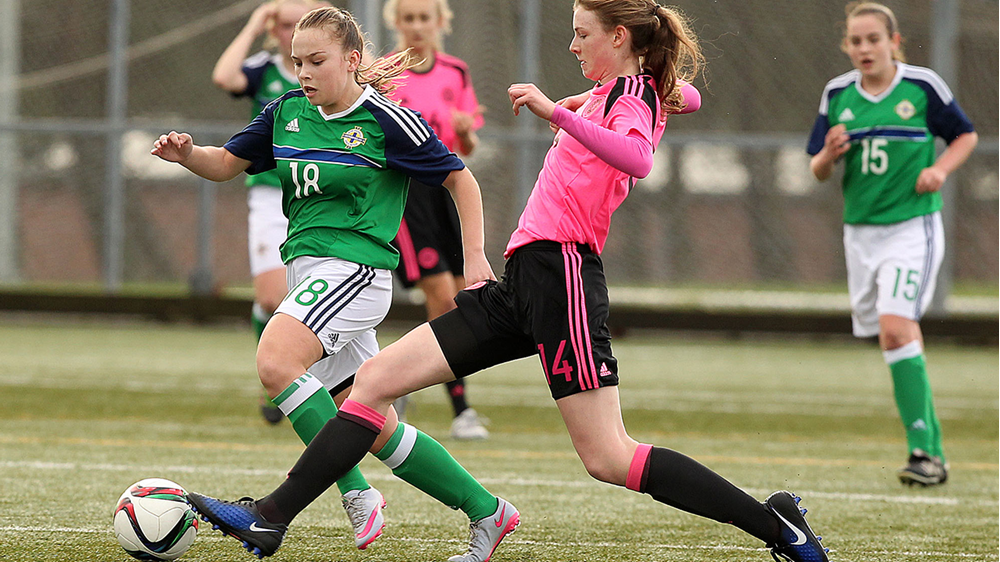 Northern Ireland got off to a great start in a UEFA development tournament for under-16 girls' sides which is being hosted by the Irish Football Association.
In the first of their three games the girls in green hit five against Kosovo at the Riada Stadium in Ballymoney.
Casey Howe opening the scoring in the 17thminute before captain Joely Andrews extended Northern Ireland's lead after 35 minutes.
And it was all over bar the shouting in the 43rdminute when Cora Chambers netted to make it 3-0.
However, two minutes later Rrezona Ramadani got on the scoresheet to give the Kosovans a little hope.
Northern Ireland continued to create chances and it was no real surprise when they added a fourth, with Howe grabbing her second goal of the game in the 60thminute.
Sixteen minutes later substitute Teegan Lynch put the icing on the cake. Her goal sealed an impressive 5-1 victory.
And at Comber Rec's ground the two other countries in the four-team tournament produced a decent game which saw Luxembourg defeat Faroe Islands by two goals to one.
Both sides created chances before the Faroes took the lead through Sila Palsdottir Augustinussen on 55 minutes.
However, they could not hold on and two late goals from Luxembourg saw them bag all three points. Kate Thill equalised in the 75thminute before Sara Courbin grabbed the winner just two minutes later.
Matchday two is tomorrow (Friday 13 April). Faroe Islands were due to face Kosovo at Wellington Rec's ground on the outskirts of Larne but that game has now been switched to the Blanchflower Stadium on Belfast's Holywood Road (3pm start).
Northern Ireland will be in action again at 7.00 tomorrow evening when they take on Luxembourg at the Riada Stadium.
The last round of games on Sunday (15 April) sees Northern Ireland and the Faroes locking horns in Ballymoney (11am).
Kosovo and Luxembourg were due to be in action at Wellington Rec but that game has now been switched to the Blanchflower Stadium (11am start).
There is free admission to all the games.
Northern Ireland team v Kosovo: Maddison Harvey-Clifford, Kirsty Cameron, Toni-Leigh Finnegan, Aimee-Lee Peachey, Kerry Anne Beattie, Dannielle Maxwell, Emma Doyle, Joely Andrews (captain), Casey Howe, Cora Chambers, Shona Davis. Substitutes: (used) Cora Morgan, Teegan Lynch, Lucy Andrews, Jenna Corry, Eirinn Canavan, Faith Johnston, Olivia Marshall, Caitlin McGuinness; (not used) Maddison Dodson, Sophie Megaw.
Image: Kirsty Cameron in action for a Northern Ireland Select side against Scotland last year.