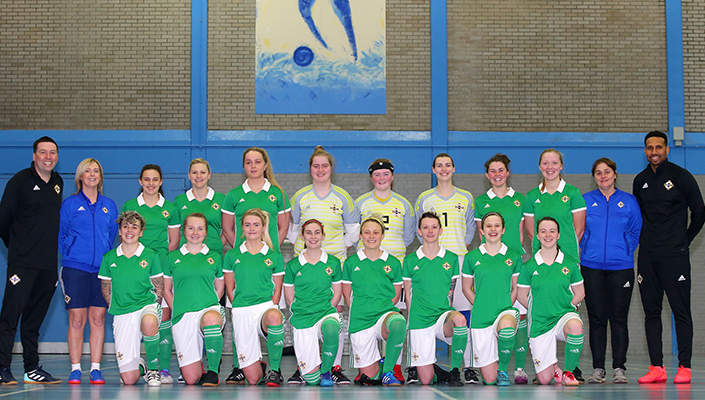 The newly established Northern Ireland's women's futsal team played their first ever match on Sunday (15 April) with a development game against Banbridge Town.
The game, at Shankill Leisure Centre, was a tough challenge against a top men's side, but the women's team competed right to the end in a 6-4 defeat.
East Belfast's Shelley Stothers made a little bit of Northern Ireland football history by becoming the first goal-scorer for the women's international futsal team.

The other goal-scorers were Rachel McConnell of Portadown Ladies who scored twice and Siobhan Bell of St James Swifts. 
Coach Keith Gibson said, 'It was a great opportunity for the team to get match experience. We have been working really hard over the winter developing tactical knowledge and Sunday was about putting that into practice. 
'The new Women's International team is the latest development of our futsal strategy 'Game Changer'. The Irish FA is committed to developing a culture of futsal and this exciting programme provides further opportunities for women to pull on the green shirt and ultimately to represent Northern Ireland in international competition.'
The Irish FA would like to thank Shankill Leisure Centre staff and Belfast City Council for their help and support of the Female futsal programmes 
If you would like more information on any of the Irish FA Futsal programmes, please contact Jackie Blyth - jackie.blyth@irishfa.com
Northern Ireland women's futsal squad v Banbridge Town

Amber Dempster - Linfield Ladies 
Heather Mearns - Crusaders Strikers 
Louise Docherty - Cliftonville Ladies 
Olivia Brown  - Comber Rec Ladies 
Nadene Caldwell - Glentoran Belfast United 
Shelley Stothers -  East Belfast Ladies
Megan Weatherall - Cliftonville Ladies 
Rachel McConnell  - Portadown Ladies 
Hollie Johnston - Carnmoney Ladies 
Courtney Adamson - Portadown Ladies
Anna Daley - Bangor Ladies 
Siobhan Bell - St James Swifts 
Megan McCabe - Portadown Ladies 
Aimee McNeill - Crusaders Strikers 
Hannah Henderson - Ballymena Allstars 
Alice Harkness  - Tranmere Rovers 
Erin Hennirty  - Comber Rec Ladies