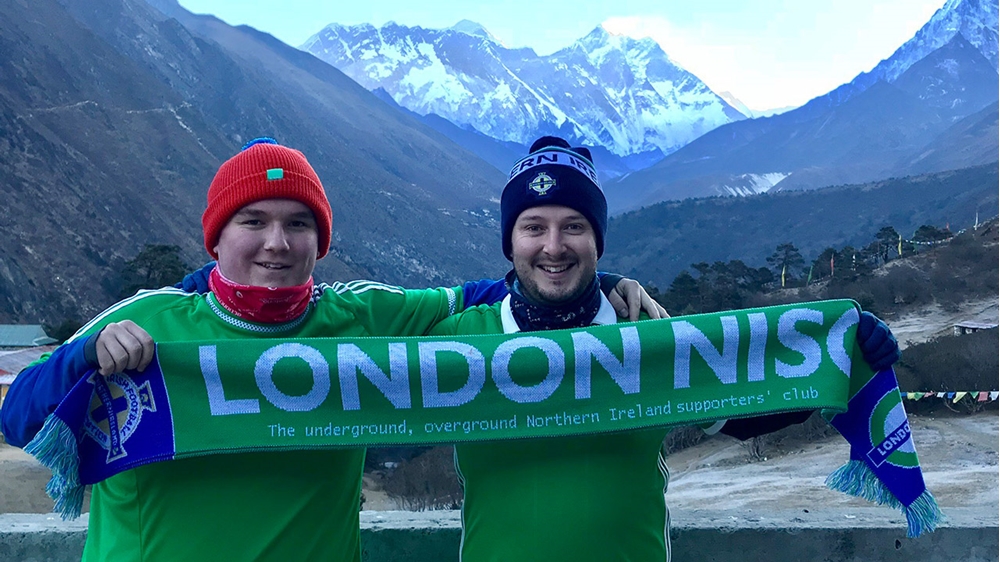 The GAWA are well known as the best fans in the world so where better to take their support than up the highest mountain in the world!
March's Fans of the Month, Richard McFerran and Joel Adair scaled Mount Everest in a bid to raise money for a charity close to their hearts. 
Richard McFerran explains their valiant efforts: "It came about as an idea to help raise money and awareness for Macmillan Cancer Care. They were outstanding in looking after my Mum who sadly passed away last June so it was a great opportunity to say thank you to them.
"The trek was extremely challenging at times but we made it to Everest Base Camp on Monday 26th March not long after finding out the excellent result against South Korea!"
Arnie McCalister, a friend of the duo, nominated the pair for Fan of the Month: "Despite his Mum's illness, Richard has only missed one game in the last two campaigns and rebooked Azerbaijan to travel the day after his Mum's funeral on the insistence of his Dad, Jim, who is a block booker.
"I know Richard took great comfort from the support he received from the London NISC and the GAWA in general during the course of his Mum's illness. The London NISC are rightly proud of both Joel and Richard, as I'm sure the GAWA are in general, and it is yet another example of Northern Ireland fans supporting each other in circumstances outside of the beautiful game."
Joel Adair told us how the true Northern Irish spirit and passion helped them along the way: "We both suffered quite a bit on the climb with symptoms of acute mountain sickness, but we persevered with the help of our team. I love supporting Northern Ireland as we never take ourselves too seriously. 
"We're usually the underdogs and both the team and the fans always give it everything. I've made countless new friends over the years at matches. I've been supporting Northern Ireland since I was a kid, but unlike Richard, unfortunately I wasn't yet born for the glory days of the 80s."
Both Joel and Richard have put out an appeal to their fellow GAWA members to support them and donate to a great cause. 
Richard: "We would love to be able to push towards £10,000 for Macmillan in memory of my mum, Yvonne McFerran. Every donation is welcome no matter how much. Donations can be made HERE."
Joel: "I'm also a huge Crusaders fan, and we currently have a signed Crusaders FC home jersey which we are auctioning. Hopefully the Crues are only a few weeks from another League title, so if anyone would like to bid on the shirt, they can submit an offer to ballyclaretoeverest@gmail.com. We both covered the costs of the trip to Nepal ourselves, so every penny raised will go to Macmillan and the fantastic work that they do.
It's a real honour to be nominated as fan of the month particularly as it brings some publicity to our fundraising efforts. Massive thanks to the London NISC for their nomination and assistance in our fundraising campaign."
You can see a gallery of images from Richard and Joel's GAWA trips below. 
Know someone that deserves to be recognised as our Fan of the Month for April? Send us a message on our social media channels to submit your nomination!