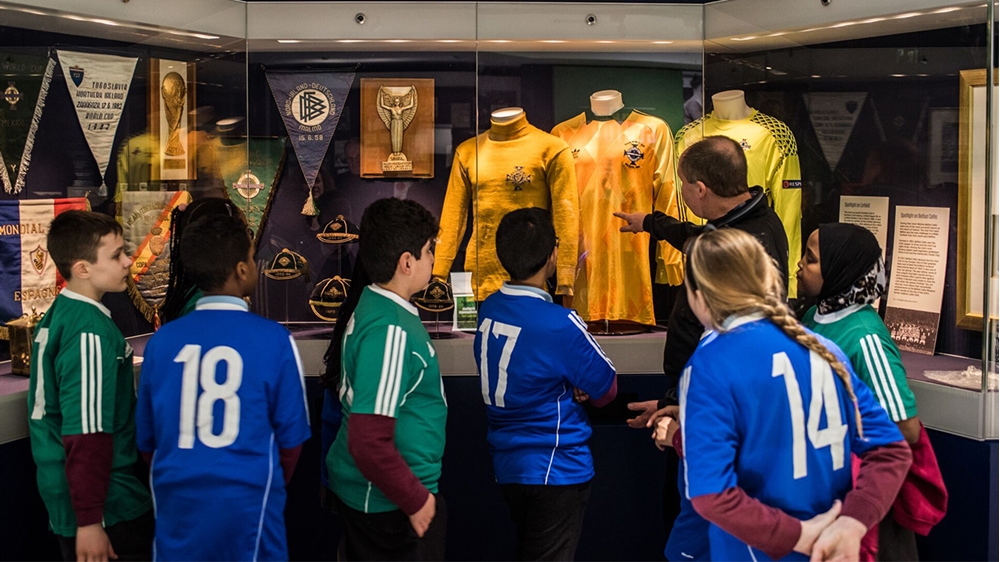 The Irish Football Association's Education and Heritage Centre is now officially one of Belfast's top visitor attractions.
The centre, which is housed within the National Football Stadium at Windsor Park, tells the unique story of Northern Ireland football using a variety of media, interactive displays and key artefacts from the 1880s to the present day.
It has just broken in to TripAdvisor's Top 10 list of the best things to do in Belfast. It is now ranked 6th out of 236 visitor attractions in the city.
Centre manager Stephen Garrett explained: "At the end of 2017 we were sitting at number 33 out of 233 things to do in Belfast with a five-star rating from TripAdvisor. 
"Our aim this year was to get in to the Top 20 so, naturally, we are delighted to currently be sitting in sixth place with a five-star rating." 
The centre, which was officially opened last March by Northern Ireland manager Michael O'Neill and most capped player Pat Jennings, welcomed 7197 visitors from all over the world - and staged 448 tours - in its first nine months of operation.
Garrett added: "We are aiming for 10,000 visitors and 600 tours in 2018 and we are confident we will reach that target."
Apart from hosting tours for individuals and visitor groups, including schools, youth organisations and football clubs, the centre also runs corporate events, hospitality for international matches, conferences, birthday parties and much more.
Visitors to the EHC are able to relive the atmosphere of famous nights, gain insights into the drama on and off the pitch and feel the rush of emotions shared by everyone inside the stadium - win, lose or draw. It also showcases the Irish FA's vision of promoting, fostering and developing football for all in Northern Ireland. 
The centre has a number of trusted volunteer tour guides who have received extensive training to deliver a top visitor experience.
For more information go to www.irishfa.com/tours