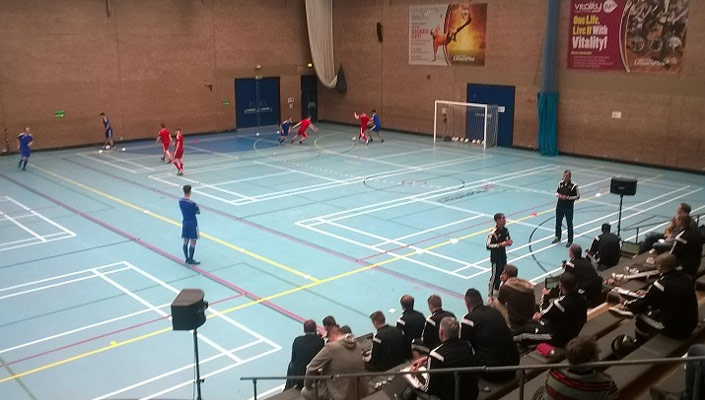 Shankill Leisure Centre was host to the Irish FA's inaugural National Female Futsal Finals.
The four semi-finalist represented were selected through a regional league qualification that took place at four Futsal facilities across Northern Ireland.  The semi-finals saw Comber Rec Ladies play Glentoran Belfast United and Cliftonville Ladies compete against Foyle Belles.
Comber Rec Ladies and Glentoran Belfast United contested a high scoring semi-final with Glentoran Belfast United obtaining a strong lead in the first half.  Comber Rec Ladies began to settle in the second half and exhibited the style of play that had entertained and had resulted in to them becoming Lisburn Regional Champions.  In the end Glentoran Belfast United's lead was too large and they proved to be worthy National finalist.
Cliftonville Ladies and Foyle Belles were involved in an end to end semi-final which had both goalkeepers busy and highlighted the fast pace of the Futsal game.  Foyle Belles proved strong semi-finalists and demonstrated the wealth of talent that exists in the North West.  Cliftonville Ladies showcased the same form that had led to them becoming Belfast Regional Champions and this quality in front of goal booked them a place in the final.
The final was a classic example of a game of two halves.  Cliftonville Ladies started the game very strong and established a strong lead through a combination of high tempo play and creativity at set pieces.  Glentoran Belfast United were a different team in the second half and scored 3 goals in 4 minutes which completely changed the match.  Cliftonville Ladies then had to chase the game and Glentoran Belfast United utilised their goal advantage to keep the ball and run down the clock.  Glentoran Belfast United managed the game well and when the final whistle was blown they were delighted to be crowned National Female Futsal Champions for 2015.
Everyone present was impressed with the standard of play in the final and were entertained by a high scoring end to end game.  Irish FA Schools and Futsal Manager, Jonathan Michael commented "The final was a fantastic advert for Futsal in Northern Ireland with both teams play the game in a great spirit and were extremely positive in their approach.  This is an example of what people can expect in 2016 and we hope that clubs, schools, colleges and universities will participate in our Futsal programmes moving forward." 
Irish FA Director of Development, Michael Boyd was present to congratulate all the teams involved and present the medals and the National trophy.  Michael added, "Congratulations to Glentoran Belfast United and Cliftonville Ladies on being part of a fantastic final.  The Irish FA is excited about the future of Futsal and the programmes we will be delivering in 2016.  The female clubs have led the way and we hope more will get involved in our exciting programmes in the New Year."
For more information about Futsal contact Jonathan Michael on jonathan.michael@irishfa.com