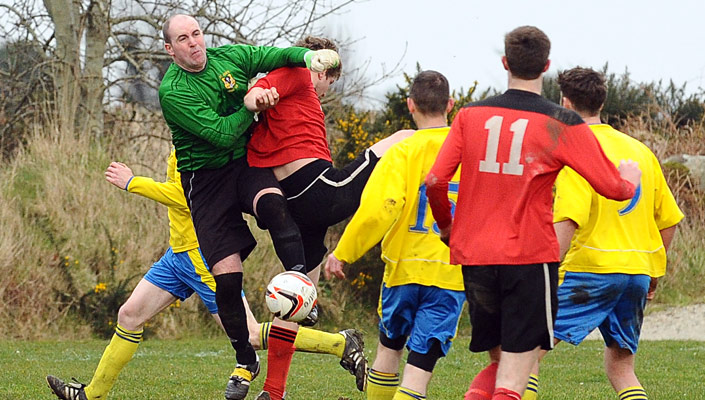 Today's "Tie of the Quarter Final Round" saw Ballyvea from Killkeel take on the Belfast side St Luke's for a place in this seasons semi final of the Junior cup.
From the KO it was obvious that both sides had done their homework on each other and the 1st half saw a lot of cat and mouse tactics from both sides and it ended in a end to end battle.
Both keepers had some work to do but it was the Ballyvea keeper Steven Main who had the most to do and pulled of 3 excellent saves that kept the game alive.
At the other end Sean Tierney in the St Luke's goal made a few saves as well but to be honest they where bread and butter attempts.
As the 1st half came to an end both teams were glad for the break.
Half Time: Ballyvea 0 - 0 St Luke's
The second half started much as the 1st had finished with both teams probing into each others half but with no meaningful finish.
St Lukes seemed more intent in getting the victory and seemed to be getting to the ball quicker than the opposition and go for the win.
Suddenly St Luke's broke through the Ballyvea defence and their "Man of the Match" Aaron McKinney forced the ball over the Ballyvea line  to put the belfast side 1-0 up after 75 mins.
From the restart Ballyvea seemed to get their second wind and within 2 mins (77) and their no 8 Jeffery Stewart had pulled the sides level with a shot from inside the box that gave the St Luke's keeper no chance.
It was game on and both sides went for the win to try and avoid the extra time. 
Both keepers made saves but as 90 mins arrived it seemed that both sides had settled for 20 min of extra time and this is how the second half ended with both teams level at 1-1
Full Time: Ballyvea 1 - 1 St Luke's
Extra time started with a immediate attack by Ballyvea which was cleared by a solid St Luke's defence.
Again both sides moved the ball around looking for a way through but nothing was there for the taking.
The first 10 mins passed and the score stayed the same and within 2 mins of the start of the second period of extra time St Luke's made the breakthrough and John Monster put them ahead with a controversial goal from what Ballyvea seemed to think was a offside position but referee Verner ruled the goal as good.
The last 8 mins saw Ballyvea go for the equaliser but they were met with a sturdy St Luke's defence who were able to see the last period through with 11 men behind the ball and eventually win the game and put themselves into the Semi Final Draw of this seasons Junior Cup.
Game Result: Ballyvea 1 - 2 St Luke's