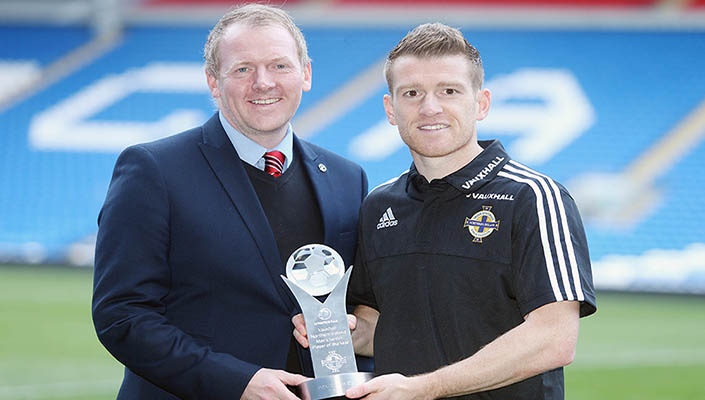 Northern Ireland captain Steven Davis has been crowned the 2015 Vauxhall Northern Ireland Player of the Year, voted for by the fans in its inaugural year.
Davis had been influential in helping secure the Green and White Army's qualification to this summer's finals in France.
A captain's performance and two goals at home to Greece sealed qualification to Northern Ireland's first major tournament since 1986.
Davis said: "It's an honour to be crowned the Vauxhall Northern Ireland Player of the Year.
"We had an unbelievable 2015 and to be able to lead this team was just incredible, the spirit of the players and the fans combined helped us get to France.
"The fans were with us every step of the way and the aim now is to do them proud over in France, I'm sure we'll have the same support we always do. It's going to be a proud time for everyone associated with the team."
Northern Ireland's second highest goal scorer Kyle Lafferty came in second place in the voting, whilst central defender Gareth McAuley finished in third place.
Andrew Curley, Head of Sponsorship and Events at Vauxhall, said: "It has been a monumental year for Northern Ireland and this inaugural award has come when so many players have played their part in a great 2015.
"We are delighted to be able to give fans the opportunity to vote for their player of the year, they are at the heart of the team's success.
"We're looking forward to continuing to support the team in what is sure to be a huge summer for the country."
The Vauxhall Northern Ireland Women's Player of the Year, voted for by the fans was awarded to captain Ashley Hutton.
Hutton said: "It's great to be recognised by the people that watch you every game, the fans. We have had some great support and to be given this award is a huge honour.
She added: "The team will be looking to build on last year and drive for more success."
Fans voted for their Player of the Year on vauxhallfootball.co.uk after a shortlist was taken on social media for their top four players.
Follow @VauxhallNI on Twitter for more exclusive news, behind-the-scenes content and videos with the team. #DareToDream