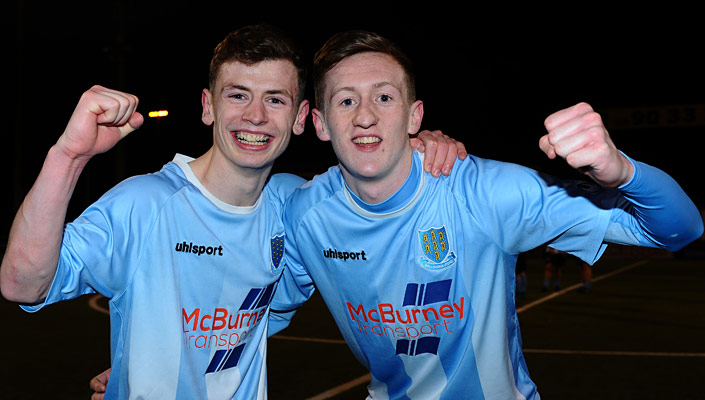 The second Semi Final of this seasons Harry Cavan Youth Cup was only 7 mins old when St Oliver Plunkett found themselves trailing 1-0 thanks to an own goal from their No 4 Michael McCusker.
Within 6 minuets (13min) they had pulled the score back to level pegging with a clearance from the Ballymena keeper only rebounding into the path of Cormac McMurtagh who made no mistake in finding the back of the net.
Both teams battled hard in sub zero temperatures and it was Ballymena who pulled ahead on the 45th min with a controversial goal line dispute that ended in Leon Bonnes claiming the goal for Ballymena.
Half Time: Ballymena III's 2 - 1 St Oliver Plunkett
The second half saw both sides go for the win and on the 64th min Francis Dugan drew the sides level when he put what looked like a cross in from the left hand side into the back of the net leaving the Ballymena Keeper rooted to the spot.
The both sides stepped up the tempo and some hard tackles went in and a number of players went into the Referee's book. Ryan Agnew saw his second yellow card on the 90th min and this reduced the Ballymena side to 10 men.
Just as we thought the dreaded extra time up popped Stewart Nixon on the 94th min to claim victory for the Ballymena III's and see themselves into the final against Crusaders Colts.
Full Time: Ballymena III's 3 - 2 St Oliver Plunkett