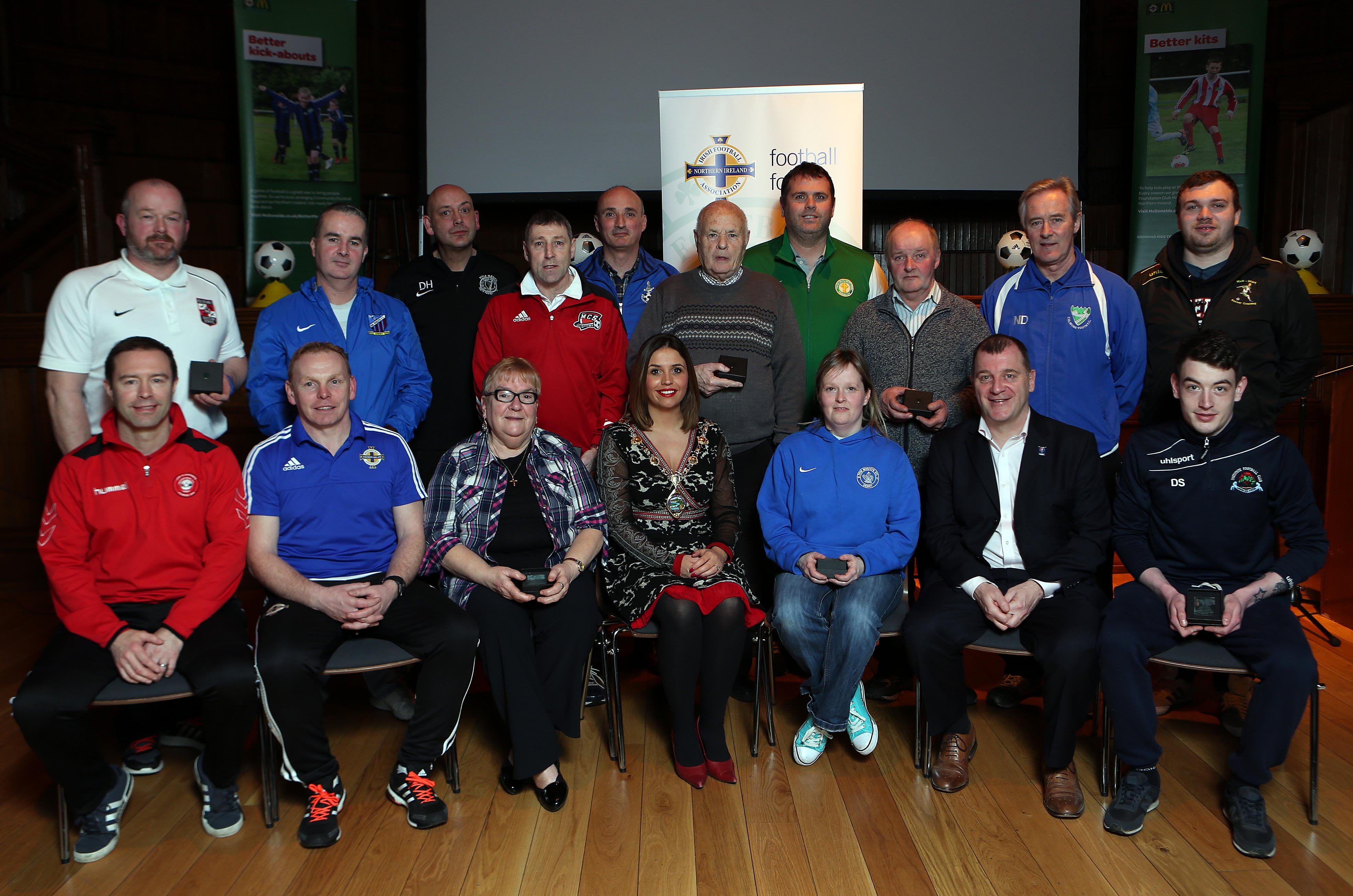 The work that the Irish FA does at grassroots level in the North West has been recognised by the Mayor of Derry and Strabane District Council at an event in the Guildhall.
Mayor Elisha McCallion praised the work of the volunteers who help to run football programmes for more than 700 players across 67 teams. The Irish FA facilitate coaching and small-sided games in three locations in the North West - at St Columb's College, Magee College and Castlederg High School.
The Association also supports football through coach education bursaries, club accreditation programmes, coach mentoring and by providing equipment.
The event saw 19 volunteers presented with awards by the Mayor for the work that they do in their clubs.In addition, Ardstraw and Dergview Juniors were presented with McDonalds Irish FA Foundation Club Marks. The Foundation Club Mark supports the development of clubs and offers a framework to implement good practice policies and procedures.
Speaking at the Awards Councillor McCallion said: "The Irish FA does sterling work to promote soccer at venues across the Council area including St Columb's College, the Ulster University at Magee and Castlederg High School.
"Over 700 children are involved affording them with so many opportunities to avail of including their club accreditation programme, coach mentoring programme, as well as coach masterclasses and bursaries. It is a fantastic opportunity for young people to get involved in sport and to be part of a team and the facilities and services provided are second to none.
"This awards recognition event is a fitting tribute to everyone associated with the sport and the Irish FA," she said.
Irish FA Chief Executive, Patrick Nelson, said: "The Irish FA recently launched a new youth strategy, 'Let them Play', which aims to double participation rates by 2025. Volunteers, such as those celebrated at the Guildhall, will be crucial if we are to deliver on that aim. "I would like to thank all those involved in growing the game in the North West for the brilliant work that they do and the Mayor for hosting such a fantastic celebration of football."