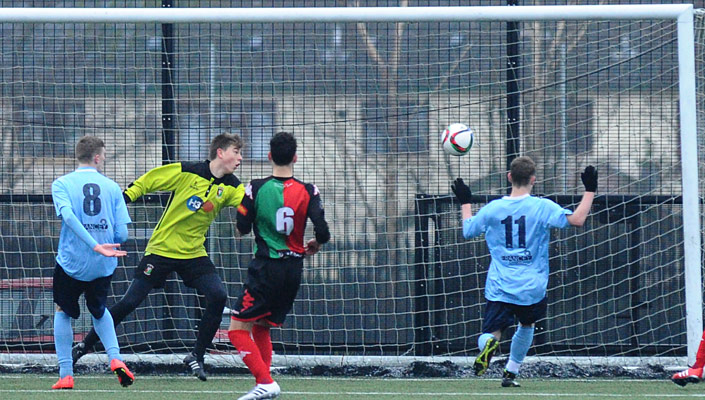 Today's "Tie of the Quarter Final" of the Harry Cavan Youth Cup saw Ballymena III's host Glentoran Colts at the Showgrounds.
The game started at a rapid pace and both sides battled well as they adjusted to the sub zero temperatures. 
Glentoran seemed to be the more productive of the sides and got their just reward when after 18mins Eddie Shaw put the visitors ahead.
Both sides had chances and only for the outstanding work from both keepers the game should have had more goals in the first half. 
The "Wee Glens" had more of the 1st half possession but the final touch eluded them.
Half Time: Ballymena United III 0-1 Glentoran Colts
After a short half time break both sides battled hard but it was the home side who took the game to Glentoran and looked like a better organised side in the second half. It took 10 mins for them to draw level when a goalmouth scramble saw the ball find it's way to the far post and the Ballymena no 3 Josh Corry rose well to head home.
Ballymena had definitely lifted their game and possession saw them take the lead when on 65 mins an almost carbon copy of the first Ballymena goal saw no 9 Dave Woods direct his header from the near post across the front of the goalmouth and into an open net.
Glentoran started to come back and had a shot well saved by Callum McCabe in the Ballymena goal but Ballymena found another gear and on 85 mins it was 3-1 to the home side when "Man of the "Match" Josh Corry again used his head to guide the ball past Glentorans keeper Olliver Webber in a goalmoth scramble.
Just when the ref was looking at his watch for full time up popped Ballymena's Jake McNeill to latch on to a pass from teammate Stewart Dixon and make it 4-1 on the 91st min.
Full Time: Ballymena United III 4-1 Glentoran Colts