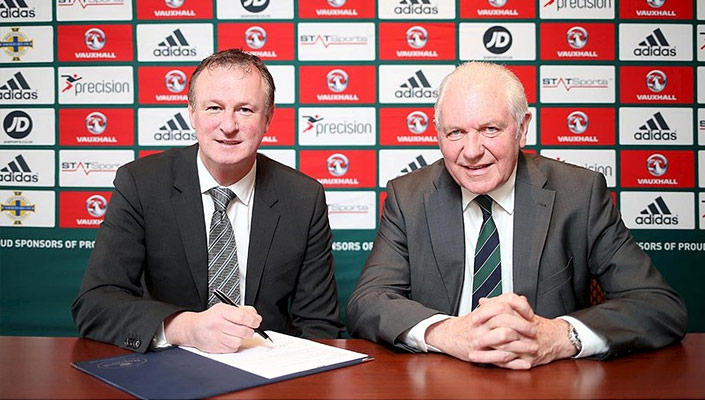 The Irish FA is delighted to confirm that Michael O'Neill has signed a new four-year contract that will see him continue as Northern Ireland manager until June 2020.
O'Neill is the most successful Northern Ireland manager in a generation having led the international team to qualification for EURO 2016. It will be the first time that Northern Ireland has competed at a European Championship finals and will be the country's first major tournament in 30 years.
Michael O'Neill's team also created history by becoming the first fifth seeds to win a European Championship qualifying group.
Northern Ireland will play Poland (12th June), Ukraine (16th June) and Germany (21st June) in the group stage of UEFA EURO 2016.
In December 2015 O'Neill's achievements as Northern Ireland manager were recognised when he was awarded the BBC Sports Personality of the Year Coach Award and the RTE Sports Manager of the Year Award.
The 46 year-old has been Northern Ireland manager since February 2012 having previously enjoyed success at Shamrock Rovers, Brechin City and Cowdenbeath. As a player he played 409 games at senior level and won 31 internationals caps for Northern Ireland.
Commenting on his new contract Michael O'Neill said: "I am extremely proud to be manager of Northern Ireland and I have thoroughly enjoyed the role over the past four years.
"I am therefore pleased to have signed this new long-term contract with the stability that it brings to me, the staff and the players. We are all now looking forward to EURO 2016 and the chance to create more history this summer."Irish FA President, Jim Shaw, said: "Michael O'Neill has been absolutely magnificent for football in Northern Ireland. Most people could only dare to dream that Northern Ireland would play in a major Championship again but Michael made those dreams a reality.
"He is a wonderful ambassador for Northern Ireland and I am absolutely delighted that he has signed this new four-year contract with the Irish FA."