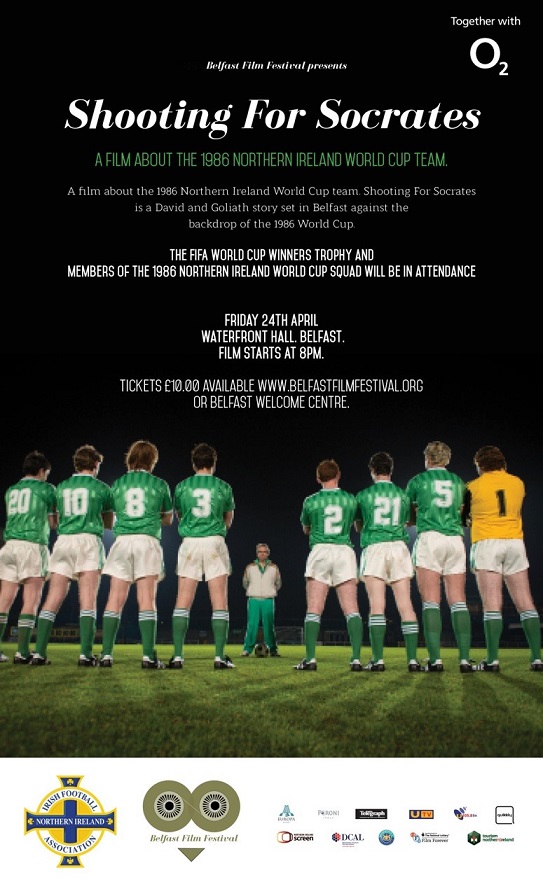 The visit by the Trophy has been instigated by former Northern Ireland International Footballer, David Campbell, whose astonishing journey to make his international debut against Brazil in the FIFA World Cup Finals in 1986 is the subject of the new film, 'Shooting for Socrates', starring John Hannah and Game of Thrones actors Conleth Hill and Richard Dormer.
Belfast Film Festival is delighted to announce that members of the 1986 Northern Ireland World Cup squad will be attending the Gala Premiere on Friday 24th April, at the Waterfront Hall, Belfast.
Players expected to be at the screening include Manchester United legends David McCreery, Sammy McIlroy, Jimmy Nichol and Norman Whiteside, as well as Pat Jennings, ex-Arsenal and Tottenham Hotspur (regarded as one of the finest goalkeepers of all time), Gerry Armstrong, goal scoring hero of the 1982 World Cup campaign, Billy Hamilton, Phil Hughes, John McClelland, John O'Neill, Jim Platt, Jimmy Quinn and Paul Ramsey.
'Shooting for Socrates' is a David and Goliath story set in Belfast against the backdrop of the 1986 World Cup. In a Northern Ireland divided on religious lines, nine-year-old Tommy learns to make sense of his world through his passion for football and his father's love of Greek philosophy. Meanwhile, the country's football team, a collection of ringers and misfits, are pitted against a modern day Goliath – the Brazilian football team, led by the remarkable politician/philosopher/footballing genius Socrates de Souza who pronounces "victory is secondary, what matters is joy". This joyous comedy is about following your dreams, no matter where you come from, and losing your heart to the "beautiful game".
The UK Gala Premiere of 'Shooting for Socrates' is supported by Northern Ireland Screen, Irish Football Association and Quikkly – connecting movie-lovers everywhere to movies.
Tickets can be purchased via https://belfastfilmfestival.org/films/shooting-for-socrates