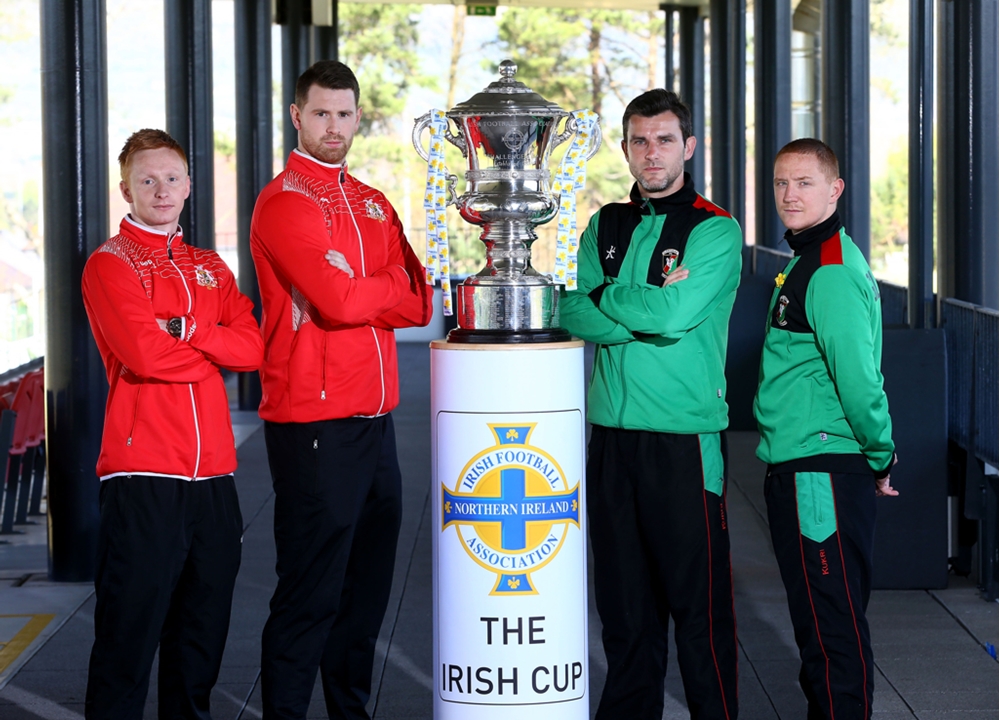 The last time the Oval hosted the Final was back in May 1995 when Linfield retained the Cup with a 3-1 win over Carrick Rangers and next Saturday this prestigious Cup will be handed over for the 135th time.
The naming rights for this year's Final have been given to Marie Curie. Marie Curie was the official charity partner of the Irish Football Association for two years and were given the naming rights of the 2013 and 2014 Finals. This provided them with a tremendous platform to raise awareness of the charity and by giving them the naming rights of this season's Final will allow them to continue to raise awareness of the great work that they do.
The Final between Glentoran and Portadown on Saturday 2 May will kick-off at 2.30pm and will be shown live on BBC Sport NI.
"We are delighted to be hosting this year's Irish Cup Final at Glentoran's historic Oval stadium," said Irish FA Director of Football Operations, Greg Shields. "Firstly, thank you to Glentoran for making the ground available and for their ongoing help and support as we work together to prepare the ground for the Final. Thank you also to Portadown for their professionalism and support of this decision.
"The Oval is a 'proper' football ground, full of history and atmosphere. Some of the greatest players in the game's history, including George Best and Eusebio, have graced the Oval pitch and as Director of Football Operations at the Irish Football Association, I and the entire Association Team have been working hard with Glentoran and Portadown to ensure that we host a fitting tribute to a ground that first opened its gates back in 1892! It is an historic occasion."
Greg added: "Belfast City Council and Sport NI have been fantastic in supporting both clubs and ourselves in accommodating modern temporary seating which we have purchased to ensure that all fans get to witness this historic event. I would also like to extend thanks to the PSNI for their progressive and positive contribution and also Belfast Harbour Commissioners for their support.
"Our Ticketing Agent Ticketmaster have been very responsive, listening hard and working closely with us and both clubs to ensure a smooth transition as we prepare for a new era at the new National Football Stadium at Windsor Park. Tickets are available, at the request of both clubs, exclusively from Glentoran and Portadown and will be scanned upon entry.
"We have asked our Community Relations and Football Development Departments to help. They will work with the clubs, the local community and will be there on Cup Final day to make the atmosphere just right for both clubs, as fans, family, friends, children and of course teams arrive at the stadium.
"Our vision for the Irish Cup is to replicate what we are able to deliver for Northern Ireland International matches. This is our flagship event and a family occasion for the whole country to support.
"It is a privilege to be involved and we hope that we can do the Cup and both teams proud and in doing so inspire the next generation of Portadown, Glentoran and Danske Bank Premiership stars."