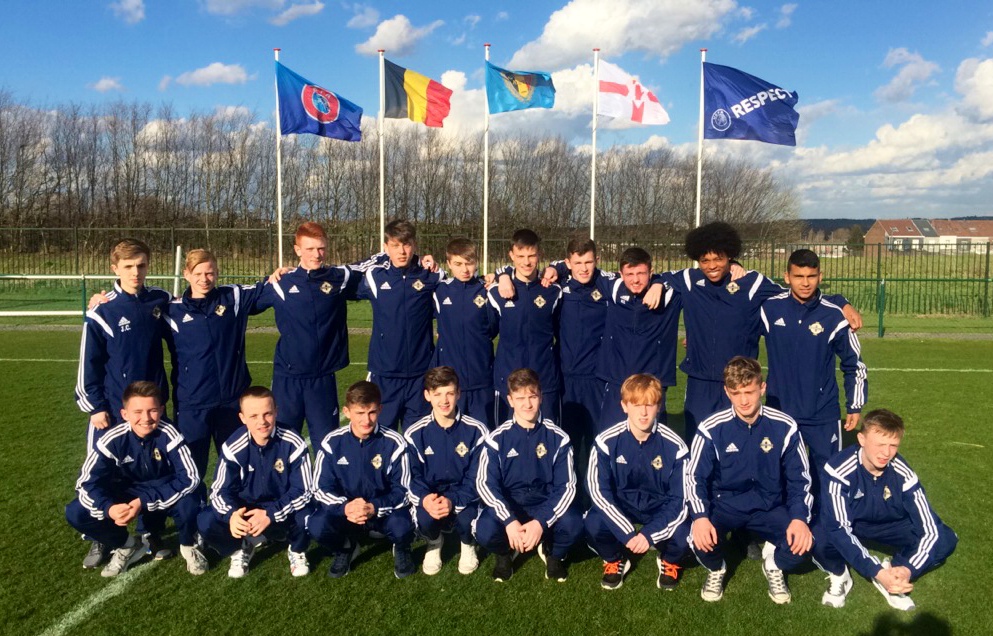 The more experienced Belgian team, which had already defeated Italy and drawn with The Netherlands, started brightly but it was the visitors who created the best chance after 15 minutes. Centre forward Leo Brown made a great run down the left before cutting inside to unleash a right foot shot which Belgian keeper Thomas Willocq did well to keep out.
On the half hour Belgian left winger Cyril Ngonge found himself in a good position but Aaron Donnelly got back to deflect his shot over the bar. Two minutes later Belgian skipper Yassin Aalillou tested Oliver Webber with a drive from the edge of the box but the keeper dived low to his left to hold the shot.
Just before the interval Northern Ireland made a quick break down the right and Reece McGinley's cross found Jack Chambers unmarked. With only the keeper to beat the midfielder sliced his shot wide of the upright.
Belgium pressed strongly throughout the second half but could make little impression on a solid defence in which Ian Maxwell and captain Luke Ferguson were outstanding. Webber dealt well with shots from Brandon Baiye and Lois Openda but in the final minute it was David Healy's boys who almost snatched a dramatic victory. A corner on the left was delivered to Maxwell and his volley went inches past the post.
Northern Ireland will complete their tournament schedule against Turkey at Tubize.
Northern Ireland
Oliver Webber; Sean Wallace; Kai Wardlow; Aaron Donnelly; Ian Maxwell; Jake Irvine; Reece McGinley; Luke Ferguson (c); Leo Brown; Jack Chambers; Harry Robinson
Substitutes
Pablo Andrade (replaced Brown 44 minutes); Joseph McMullan (replaced McGinley 58 minutes); Matthew Shannon (replaced Robinson 58 minutes); Jack Henderson (replaced Donnelly 61 minutes)