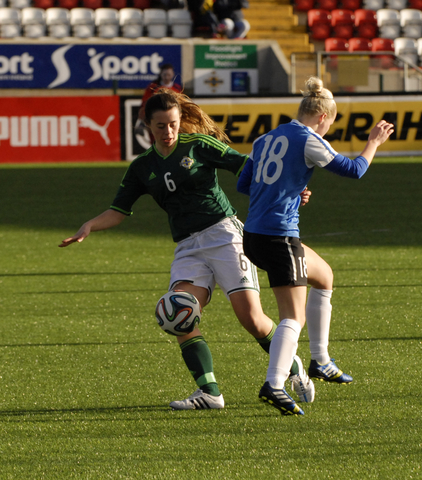 On Monday (April 6), Alfie Wylie's side will face England at Seaview (kick-off: 4.00pm), with the final game in the tournament against Norway on Thursday (April 9) at Solitude (kick-off: 3.00pm).
Northern Ireland have qualified for the elite stage of the UEFA Under-19 Women's Championship for the 3rd time in four years – something which is obviously an amazing achievement for the players and the staff.
"It is a great achievement for everyone involved and it reflects the consistent good work being carried out in the Regional Girls Excellence Programme and the Under-17 squad," said National Women's Coach, Alfie Wylie. "The quality of these programmes and the quality of coaching has prepared the girls for the step up to U19 level and the players have really stepped up to the mark and delivered each year consistently good performances.
"With the girls having come through the Under-17's (who also have qualified in two out of the last three years for the Elite round of their Championships) they have been well prepared.
"Being one of the smaller footballing countries in women's football it is something we are all very proud of and we are grateful to the Irish FA for investing so much in the international and excellence programmes along with the local girls' leagues to make this possible."
So how does Alfie think his team will fare against Switzerland, England and Norway? "When you qualify for the Elite round there are no weak nations and this is reflected in the countries we have drawn," he said.
"We are number four seed in the group and know that every game will be harder than any game we have played to date. The other three countries are all top 10 countries in Europe and regularly qualify for the finals.
"Playing against countries of this stature can only be good for the girls and it will, I hope, help them realise what it takes to be a top player.
"It will also give them a great chance to measure themselves both physically and technically against some of the best young players in Europe and future stars."
| | | | |
| --- | --- | --- | --- |
| DATE | GAME | VENUE: | KICK-OFF: |
| Saturday 4 April | Switzerland v Northern Ireland | Solitude | 8.00pm |
| Saturday 4 April | England v Norway | Seaview | 8.00pm |
| Monday 6 April | Norway v Switzerland | Solitude | 1.00pm |
| Monday 6 April | England v Northern Ireland | Seaview | 4.00pm |
| Thursday 9 April: | Northern Ireland v Norway | Solitude | 3.00pm |
| Thursday 9 April: | Switzerland v England | Seaview | 3.00pm |
Entry to all the games is free, so come along and support Alfie Wylie and his U19 women's squad in this elite round mini tournament.