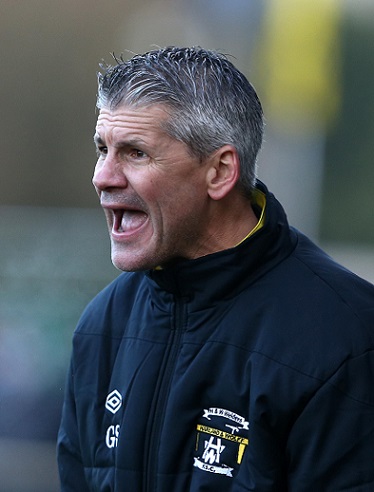 The old cliche that 'the league is more important' may be true but dont tell that to the two manager's come friday night when they go head to head in the Intermediate Cup Final, Carrick Rangers face Harland and Wolff Welders in the showpiece decider at Seaview.The East Antrim men clinched the Championship last Saturday but will hold fire on the major celebrations until after friday nights encounter.
Rangers boss Glenn Taggart says "We may have had the upper hand in the Championship encounters and in the Steel and Sons but this will mean absolutely nothing come friday night, We didnt even begin to think about the final until Sunday morning.
Taggart was uncompromising, "We are a team of winners and if we dont complete the job on friday then the season will end on a low for us despite everything, but we must be careful The Welders are a good side and we should take nothing for granted, they could very easily have been where we are and vice-versa."
Each team has a top striker in a rich vein of form, Michael McClellan and Miguel Chines have set the Championship scoring charts alight, The Welders hitman is just 3 short of a half century and Chines is up to 27 and it will be no surprise if both do not test the respective custodians.
Welders supremo Gary Smyth says "I've no doubt we will go into the game as underdogs, we let ourselves down badly in the Christmas Day Final and we need to make sure we turn up this time,
Smith continued "We always seem to give them a start and for a team that go at you right from the kick off, thats not such a good idea."
The Shipyardmen will be without defender Gareth Beattie, who is back in rehab training after injury but the end of season finale has just come too soon for him.
Smyth was both compassionate and philosophical about his opponents, " They will be without Ciaran Donaghy who has been a giant for them, he has broken a rib and I know how painful that is, Donaghy is a good organiser and Carrick will miss his presence, our guys know they have a big job to do and how we start the game is vital."
The game at Seaview kicks off at 7:30pm and will be played to a finish with extra time and penalties if required.
The match Officials are Referee - Evan Boyce, Assistants - Neill Gillespie and Darren Veighey and Fourth Official is Graham McIlwrath
Admission is £7 and £3 concessions.
You can follow the game on Twitter @OfficialIrishFA or use the #IntCF2015