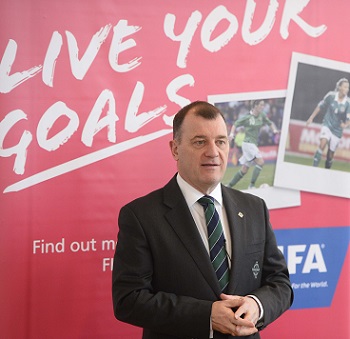 IFA officials, NIWFA Committee members, players and club representatives braved the weather on Sunday morning to officially launch the new league. Indeed, the importance of this new league was demonstrated by the presence of IFA senior officials including President Jim Shaw and IFA Chief Executive Patrick Nelson. Current FIFA Vice President Jim Boyce was also in attendance to lend his support for this exciting new development.
Funded by FIFA, the league will involve nine teams (Carnmoney Ladies, Crusaders Strikers, Cliftonville Ladies, Foyle Belles, Glentoran Belfast United, Mid Ulster Ladies, Killyleagh Youth FC, Lisburn Ladies and St Oliver Plunkett) and will run from Saturday 16 May until Saturday 4 July.
Speaking at the launch NIWFA Chairwoman Susan O'Neill remarked; "This new Under 15 National League is a crucial part of the player pathway and we are delighted to have nine teams participating in the inaugural season".
"The NIWFA is working hard alongside the Irish FA to implement the IFA Girls' and Women's Football Plan and the creation of this league, with the support of FIFA, is extremely important for the development of the female game in Northern Ireland".
IFA Chief Executive, Patrick Nelson, closed proceedings by thanking FIFA for their continued support of girls' and women's football;
"We are delighted to launch this new league today and are very grateful to FIFA for their support of girls' and women's football in Northern Ireland. The financial assistance they give us, along with the equipment and apparel for all the teams, is greatly appreciated. This is an important development for the game in Northern Ireland and it will allow us to encourage more girls to get involved in football".
For further information about the Under 15 League launch or other aspects of FIFA support for girls and women's football in Northern Ireland please contact IFA Women's Domestic Football Manager Sara Booth via sbooth@irishfa.com
For further information about the Under 15 National League please contact Colette Young (NIWFA Secretary) via cyoung.niwfa@gmail.com