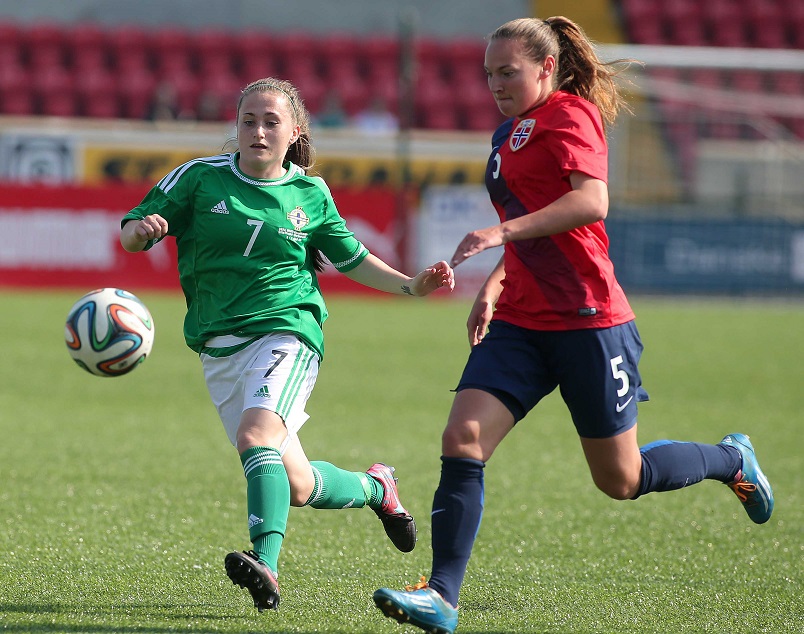 With Northern Ireland low on confidence after heavy defeat to England it didnt take Norway long to stamp their authority on this game. Norway held onto the ball for long periods of the game with their quality passing and movement. With only 6mins into the game Norway win their second corner, Marit Lund whips it in and Karina Shaevik gets her head on end of it and makes the score 1-0.
Straight from the kick off Norway dispossess Northern Ireland and work the ball up to Johanne Fridlund who neatly tucks it into corner of the net to make score 2-0. On 9th min a terrific cross from Norways Karina Saevik sees team mate Kristine Leine header come back of the crossbar. After constant pressure from Norway they win yet another corner, Karina Saevik picks out team mate Vilde Fjelldal who heads it into back of the net 3-0 Norway.
Just 1min later undoubtably came the goal of the game, Northern Irelands Captain Aimee Mackin picks the ball up 35yards from goal and hits a thunderbolt and Oda Bogstad in Norway goal could only watch it go over her head and into the net and reduce the defecit to 3-1. Half hour gone and it brings Norways fourth goal of the game, a wonderful team goal with neat 1 touch passing, Marie Markussen drills it home low and hard from outside box and into corner of the net. Half Time NI 1-4 Norway.
Two mins into 2nd half Northern Ireland get themselves a corner, floated in by Aimee Mackin, Laura Rafferty could only watch her header go past the post. On 59th min a fantastic solo run by Norways Nora Eide Lie makes the score 5-1. With the game littered with some great goals another was to follow on 75mins and Norways 6th, Norway win a free kick just outside the box, up steps left footed Marit Lund who curls it over the wall and into top corner.
With only mins remaining Norway have another corner and its that girl again Marit Lund who scores direct from a corner for her 2nd goal of the game. In 3rd min of injury time a great cross from Norways Karina Saevik falls at the feat of substitute Pernille Velta who completes the scoring.
Full Time - Northern Ireland 1-8 Norway