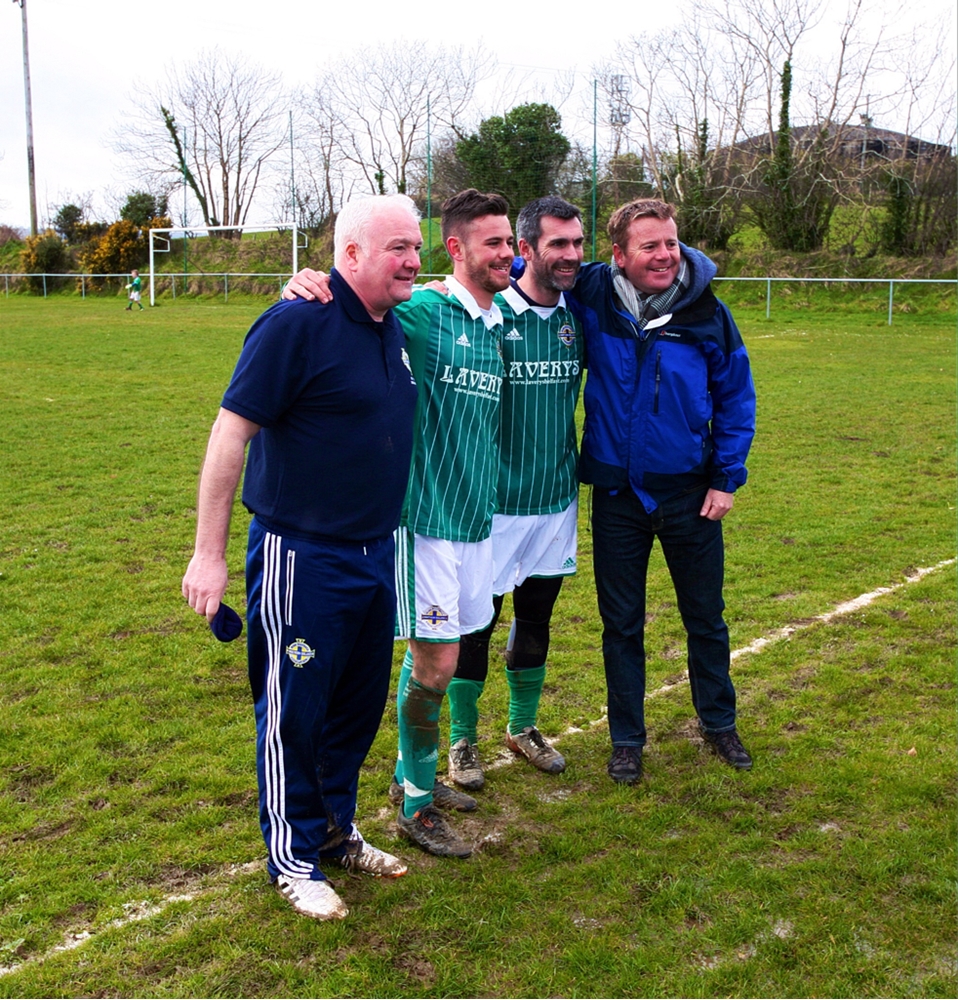 On a crisp spring morning Mother Nature was kind with the predicted rain staying away as the teams entered the pitch.
A number of local councillors attended the event along with over 200 supporters. Deputy Mayor of North Down Councillor Ann Wilson welcomed our guests from Finland, commenting that it was fantastic for the Borough, specifically Bangor, to be hosting an international football match. Councillor Wilson offered best wishes to be teams and said she hoped to see a good match - the deputy Mayor was not disappointed!
The Northern Ireland Team Captain Stuart Mellon (who is from Bangor) kicked off to huge applause from an enthusiastic and vocal crowd. This match was not about winning, it was there to showcase what football can do to bring opposing fans team together, new friendships were formed which will be carried into the return fixture in Helsinki in October, which coincidentally will be Northern Ireland's last game in the 2016 qualifying group and hopefully by then qualification assured.
Star guest on the field was Northern Ireland legend Keith Gillespie who showed that he retains some of the magic which made him so popular with the Northern Ireland fans. His early shot was beautifully saved by Olie in the Finns net. Olie is almost 70 years old and is a cult figure in Finland footballing circles. He won a case in Finland which changed the laws thereby permitting players over 65 to participate in senior football. This fact demonstrates the Irish Football Association's strap line Football For All.
Gillespie opened the scoring with a curling right foot shot into the corner; this was Keith's 3rd goal for Northern Ireland! On Twitter it read Northern Ireland 1 Finland 0 - Gillespie. Ross McMullan scored with a terrific drive to double the lead and got the third on the stroke of half time.
Changes were made at half time and at one point the Northern Ireland front pairing of Cordinar and Adams saw the experience of 105 years roll back the years.
Finland were awarded a penalty by referee Lutton and the striker blasted home to reduce the deficit. Then with four minutes remaining Chris Adams slotted home from 18 yards following a right wing cross from debutant Gillespie (who might just have done enough to keep himself in the squad for the next game!) to leave the final score 4-1 to the home side.
Bangor received further welcome publicity when Sky Sports dropped in to capture some of the action which went out across Europe. Over £200 was raised in the charity ballot post match. A massive thank you to everyone that supported the event.
Northern Ireland Fans' Team manager Alan Ferris commented: "We are delighted that the day was a great success, it was well supported and we look forward to October whenever the Finnish fans will be hosting us in Helsinki. We thank Bryansburn FC for allowing the event to be held at their ground and the facilities were excellent."
Irish FA Director of Football Development, Michael Boyd, added: "This was a fantastic event organised by the NI Fans Team and having Keith Gillespie involved highlights how close the Green and White Army family is. Both Fans teams are a credit to their countries."
Next up for the Fans Team will be another home game this time against Romania in June.