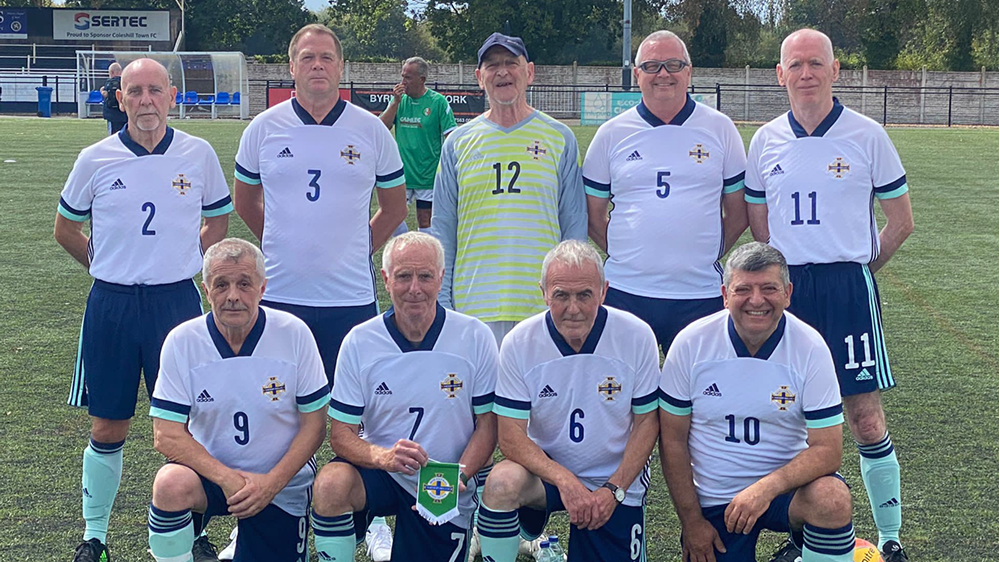 The Northern Ireland Over-60s walking football team have competed in international matches for the first time.
The team, who are run by the Northern Ireland Walking Football Federation in conjunction with the Irish FA Foundation, recently played two matches in Birmingham - against Republic of Ireland A and B teams.
The Over-60s geared up for the two internationals with a friendly against a Birmingham County Select team. All three of the seven-a-side matches were played at Coleshill FC's ground on the outskirts of Birmingham.
The game against Republic of Ireland A ended in a 2-2 draw, although Northern Ireland had enough chances to win their maiden international match.
The Republic established an early lead, however Northern Ireland quickly took a grip on the game and were soon back in it. They were awarded a penalty, which was coolly converted by striker Anthony Cafolla.
Northern Ireland's first goal at Over-60s level was soon followed by another. Captain Keith Campbell found Ricky Gardiner and his clever backheel was met by Eamon Quinn who drilled the ball home.
The second half saw Northern Ireland continue where they had left off, dominating the play and creating chances. The Republic's keeper made several great saves. 
With just minutes left on the clock, however, the Republic grabbed an equaliser to make it 2-2 and that's how if finished.
For the game against the Republic's B team Cafolla started in defence with David Lemon coming in as striker.
Northern Ireland registered a comfortable 3-0 win in their second international game, with the goals scored by Ricky Gardiner, Sam Arbuthnot and Cafolla.
The previous day, in the warm-up game, Northern Ireland lost 3-0 to the Birmingham Select team. They created plenty of chances but could not find the back of the net. However, they rectified that the following day.
Afterwards team manager Gary Barclay said: "Although the squad have only been together since June I have seen an improvement in the fitness, technique and wellbeing of the players. 
"Despite the heat and regional rule variations in Birmingham the squad adapted admirably to the challenges encountered and it was a very positive experience for all involved."
The Northern Ireland Walking Football Federation/Irish FA Foundation strategic plan aims to grow the game for men aged over 50, 60 and 70 and women over 40.
Anyone interested can get involved via a number of centres for walking football across Northern Ireland. Contact David Lemon at squeezy.lemon@btinternet.com or on 07823 887235. There are centres in each of Northern Ireland's counties.
Click here for a list of contacts for each area.
The key aims are for men and women to get out, meet people and be active for health and wellness at little or no cost for one hour per week.
Image - Northern Ireland Over-60s Walking Football squad: Roger Kelly, Ricky Gardiner, Ray Hunter, John Patterson, Eamon Quinn, Sam Arbuthnot, Keith Campbell (captain), David Lemon, Anthony Cafolla.