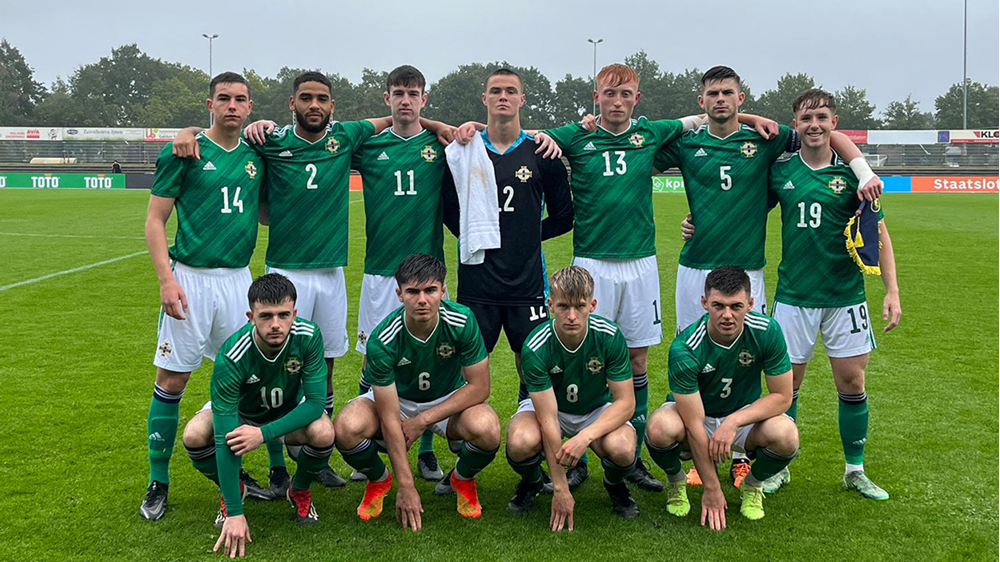 Northern Ireland Under-19s produced a gritty performance to draw 0-0 with Netherlands in a U19 Euro qualifier this afternoon.
The game, staged in Assen, was the second match for both teams in Group 13 of the 2022-23 UEFA European Under-19 Championship qualifying round.
The Dutch, who are hosting the four-team mini tournament, won their opening game against Moldova 2-0, while Northern Ireland drew 2-2 with Slovenia.
In today's game Netherlands had the bulk of possession and created several chances, however Gerald Lyttle's side also created chances and battled hard at the Sportpark Marsdijk.
Northern Ireland, showing five changes from the starting eleven in the game against Slovenia, had the first chance of the match but Brodie Spencer's shot was blocked by the Dutch.
Then the home side had a couple of chances in quick succession, however the Northern Ireland defence repelled their attacks.
On 24 minutes Noa Malik Dundas shot wide as the Netherlands pushed forward, while striker Conor Scannell forced a good save out of Dutch keeper Mikki Van Sas.
Dylan Sloan steered an effort wide as the game ebbed and flowed, while Darren Robinson had a shot blocked.
After the break the Dutch upped the tempo and Northern Ireland keeper Stephen McMullan produced a good save from a Jaydon Banel effort. Two minutes later McMullan denied Banel once again.
Dundas had a shot blocked as the Dutch continued to press, while Netherlands captain Livano Comenencia was stopped in his tracks.
As the game wore on the Northern Ireland defence had to withstand plenty of pressure.
Around the 80-minute mark Dutch attacker Bayren Strijdonck had a shot blocked and midfielder Dave Kwakman scooped the rebound wide of the post.
Sloan forced a save out of Van Sas before Strijdonck was presented with another opportunity, however he failed to hit the target, and that was the last meaningful action of the match.
The Dutch had 11 attempts on goal in the game, with two on target, while Northern Ireland had five attempts with two on target.
Northern Ireland's final group match is against Moldova, again at Sportpark Marsdijk, on Tuesday (27 September, 6.30pm UK time), while the Dutch and Slovenians will face each other on Tuesday. Slovenia defeated Moldova 4-0 this afternoon.
Gerard Lyttle will be hoping his side can defeat the Moldovans and either the Dutch or Slovenians can win their game. That would mean a second place finish in the group for Northern Ireland and automatic qualification to the elite round of the U19 Euro 2023 qualifiers next spring.
Northern Ireland U19s: Stephen McMullan, Daithi McCallion, Matthew Carson, Josh Roney, Michael Forbes (captain), Brodie Spencer, Darren Robinson, Dylan Sloan, Sam Glenfield, Makenzie Kirk, Conor Scannell. Substitutes: (used) Patrick Kelly, Callum Marshall, Rio Morgan; (unused) Josh Clarke (GK), Ruairi McConville, Charlie Lindsay, Aaron Wightman, Lewis Trickett, Reece Evans.
Netherlands U19s: Mikki Van Sas, Livano Comenencia (captain), Olivier Aertssen, Maxim Dekker, Prince Aning, Philip Brittijn, Dave Kwakman, Noa Malik Dundas, Jaydon Banel, Devin Haen, Bayren Strijdonck. Substitutes: Tom De Graaff (GK), Sem Dekkers, Wouter Goes, Koen Jansen, Timo Zaal, Iggy Houben, Lewis Schouten, Ernest Poku, Rav Van Den Berg.