Glentoran midfielder Caragh Hamilton says she is delighted to be back in the Northern Ireland senior women's team.
Hamilton, who cruelly missed out on UEFA Women's Euro 2022 due to a thigh injury, made her first appearance for Kenny Shiels' team in almost six months when she came on as a second-half substitute in Friday's 2-1 away win over Luxembourg.
Her introduction alongside club-mate and fellow midfielder Nadene Caldwell and Racing Louisville defender Rebecca Holloway gave fresh impetus to the team in the FIFA Women's World Cup 2023 qualifier at Stade Émile Mayrisch in Esch-sur-Alzette.
I set myself a target to be back for these September games and I have achieved that
Hamilton (25) and 18-year-old Cliftonville Ladies defender Grace McKimm were only called up by Shiels on the eve of the early September trip to Luxembourg and Latvia following the withdrawals of Southampton Women defender Laura Rafferty and Cliftonville Ladies defender Kelsie Burrows.
The Glens attacking midfielder, who has almost 30 caps under her belt, said it was great to pull on the Northern Ireland jersey again in Friday's game.
Before the match against Luxembourg her last appearance for Northern Ireland was as a substitute in the home World Cup qualifier against England back in April.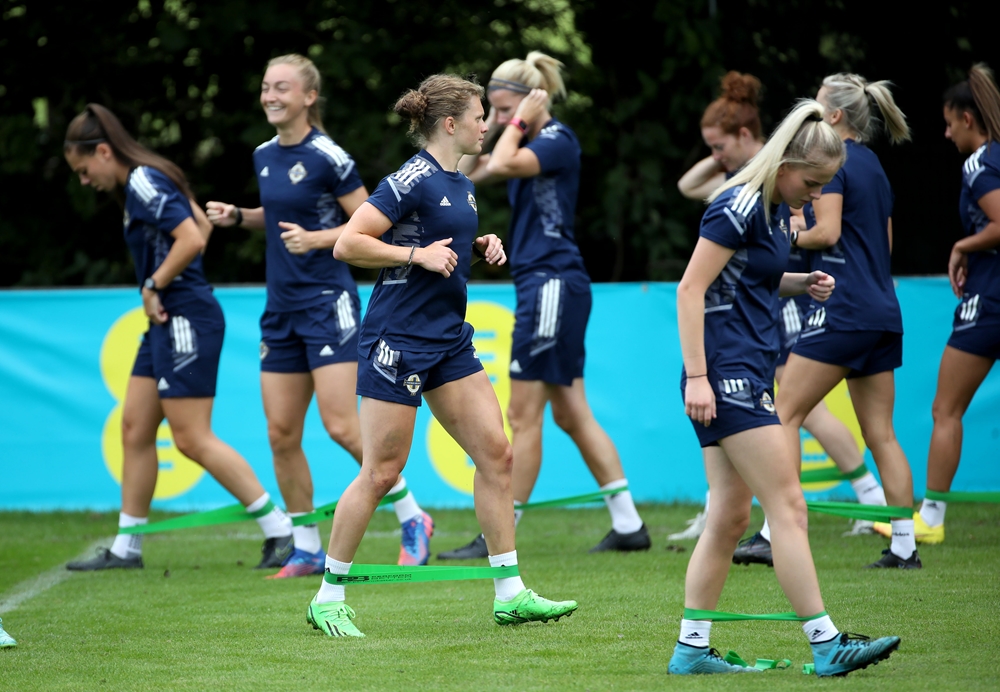 Although she has suffered long-term injuries in the past, she admitted the thigh injury picked up in May which kept her out of the Euros was arguably the toughest one to take.
"It felt like a long time. I am no stranger to injuries, and I have been out long term in the past, but that one definitely felt more painful just with the timing of the Euros," she said.
"I set myself a target to be back for these September games and I have achieved that, and it was nice to get a good chunk of time on the pitch. It was really good, however obviously the win is the most important thing."
Hamilton was full of running when she entered the fray in Esch and she reckons it was a release of energy that has been pent up for several months.
She said: "I definitely wanted to come on and make any impact that I could. Prior to the game Kenny had spoken about people stepping up in the absence of other players and I definitely wanted to make an impact.
"I think collectively we knew the performance in the first half was under par and that we needed to step it up in the second half, and I think we showed a lot of character in coming through in the end to win it 2-1.
"Obviously it was disappointing to concede a goal but straight away we responded and we got the win."
Naturally, she is also keen to play a part in the game against Latvia tomorrow (6 September, 3pm kick-off UK time) at Sloka Stadium in Jurmala.
She felt Luxembourg had improved since the teams met in a World Cup qualifier in Larne almost a year ago - Northern Ireland won that game 4-0 - and she is expecting their next opponents to have improved as well.
Northern Ireland also defeated the Latvians 4-0 last September and the midfielder feels they will have learnt a lot over the past year.
"I am sure they will have done their homework on us and I am expecting that they will be tough opposition. It's always difficult playing away from home. It's important that we build on the other night and make sure that we are setting ourselves up well for games in the future," she added.
Tomorrow's game will bring Northern Ireland's FIFA World Cup 2023 qualification campaign in European Group D to a close.
A victory against the Latvians would mark a record points tally in a women's qualifying campaign. Shiels' team, who have finished third in the group behind England and Austria, are aiming to reach 19 points by securing all three in Jurmala.