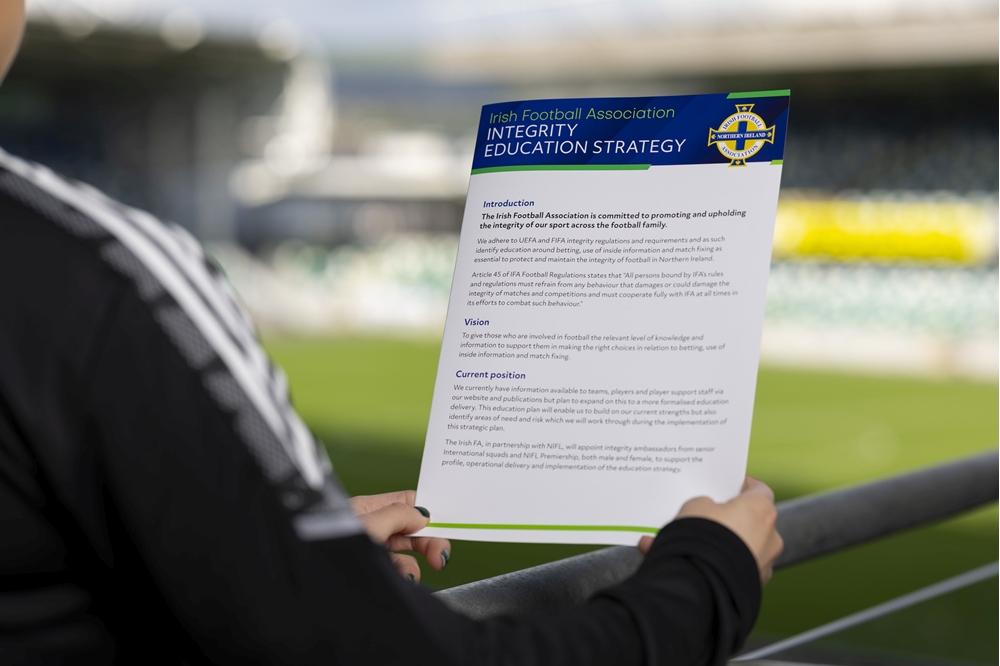 Northern Ireland senior international players Ali McCann and Caragh Hamilton have given their support to the Irish FA's new Integrity Education Strategy.
They were joined by Linfield's Jordan Stewart and Cliftonville Ladies player Yasmin White in a panel discussion at the National Football Stadium at Windsor Park to help launch the strategy, which covers the period from 2022 to 2024.
"As footballers we are constantly learning," said Hamilton fresh from a stint with the Northern Ireland senior women's team in World Cup qualifiers against Latvia and Luxembourg earlier this month.
"Topics like this are vital. We see UEFA and FIFA taking a lead on them so we know we need to do our bit locally to spread the knowledge about issues that are important to footballers in both the men's and women's game." 
Irish FA chief executive Patrick Nelson opened proceedings by underlining the importance of integrity and anti-doping to the industry from an association level to clubs, leagues and individual players.
It was a view echoed by Coleraine FC chairman Colin McKendry, who has been nominated as the Irish FA Board representative on the issue.
He said: "This is of ever increasing importance. It is vital that we have the right procedures in place so that everyone involved in our game understands what the rules are and to ensure they abide by them." 
Ali McCann, currently in his first full season with EFL Championship side Preston North End, said: "As a footballer it is important for me and my team-mates to have a grasp of these issues. Education is key and we know this is an area that has seen considerable growth over recent years."
The Irish FA's newly appointed Anti-Doping and Integrity Education Officer, Chris Wright, highlighted the importance of the education strategy in promoting a doping-free game as well as honest and ethical conduct and the provision of safe, fair and inclusive environments.
He explained: "My role will be to oversee the education of players and player support staff in the constantly evolving areas of anti-doping and integrity. We are aiming to offer vital information and support to all involved within our game.
"We are going to support football at all levels, with the first year focusing on male and female international squads from U17 through to senior as well as NIFL Premiership clubs.
"With Caragh and Ali on board as our international ambassadors we aim to really make a mark in this area."
Wright will engage with NIFL clubs to deliver education modules over the coming months to best ensure that a clean sport, and an equal game, exists in Northern Ireland.
View and download the documents below: