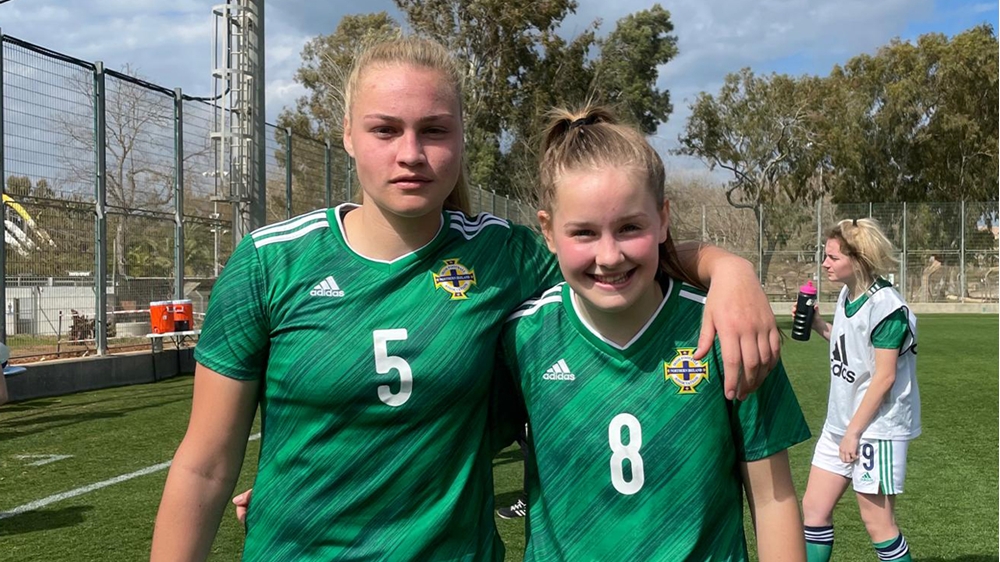 Above: Goalscorers Mikayla Wildgoose and Aimee Kerr
Northern Ireland Women's U17s boss Alfie Wylie says he is delighted with his squad's victory over their Luxembourg counterparts.
Late goals from Mikayla Wildgoose and Aimee Kerr helped bank a 2-1 win on Thursday in their opening League B Group 1 match of the UEFA European Women's Under-17 Championship 2022 qualifying.
The game against Luxembourg, played at Shefayim in Israel, marked the first of three matches for Northern Ireland being staged over the next week.
Wylie, Head of Elite Performance, said he was proud of the character shown by the team, particularly to turn things around after they fell behind to a 'soft' penalty which was slotted away by Rachel Kirps.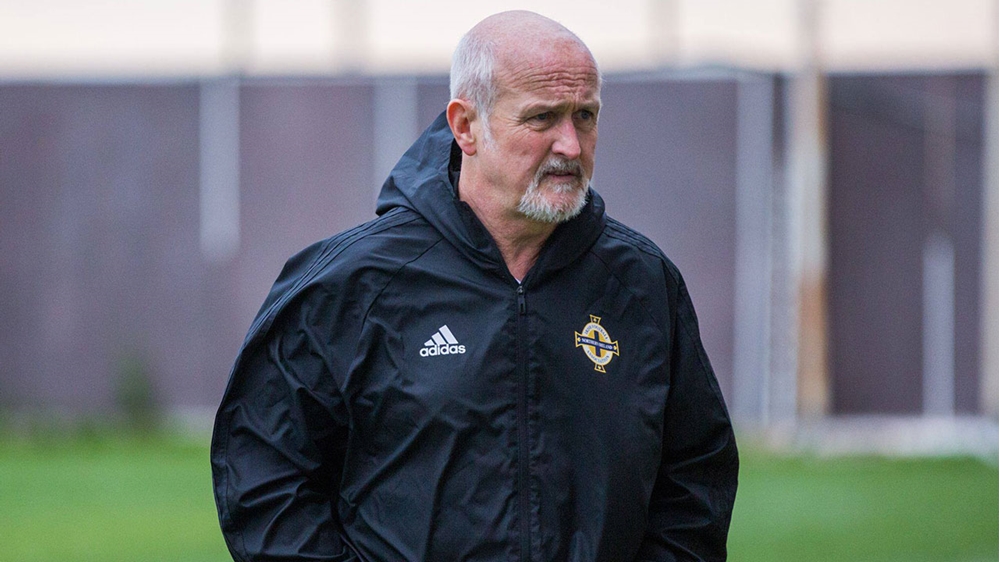 "I'm delighted with the win. I'm very proud of the girls because we went behind 1-0 to a penalty which was soft. But we know we didn't play as well as we can, and Luxembourg played very well.
"I thought it was a great testimony of the girls' character and resilience that they fought back and scored two goals in the final stages to come out and win the game. It's a game they deserved to win but Luxembourg put up a great show."
He added: "It was a physical game, and we were maybe a bit taken aback by that aspect of it but I'm very proud of the character they showed.
"In terms of our goals it was a fantastic header from Mikayla for the equaliser; no 'keeper was saving it. Then Aimee Kerr had to wait for a few minutes for her penalty while the goalkeeper was being treated. To wait to take a crucial spot-kick under that pressure takes a lot and she showed great maturity.
"The result was also a great birthday present for Sarah Tweedie whose birthday it was yesterday.
"I thought Ellie Scott was outstanding in nets and made several super saves, Abi Sweetlove was great in defence, Sarah Tweedie played well and Keri Halliday up front. They were key players in our game."
For Wylie the result is a window into the work being carried out by him and Noel Mitchell in the Irish FA's girls' performance pathway.
"It all confirms the support the players are getting where they get psychologists' support, access to nutritionists, analysts and fantastic strength and conditioning support as well as physio and coaching," he commented.
"I think there are going to be some super young players here going forward. Our pathway has produced 49 senior internationals in the last 16 years and there's no doubt that some of the U17 girls have shown that they will go on to be future senior international players."
Next up on Sunday the U17s play Faroe Islands. It's also being played at Shefayim with a 10am start (UK time).
And on matchday three they're up against Israel at the Ramat Gan National Stadium next Wednesday (16 March) when the kick-off time will be 3pm UK time.