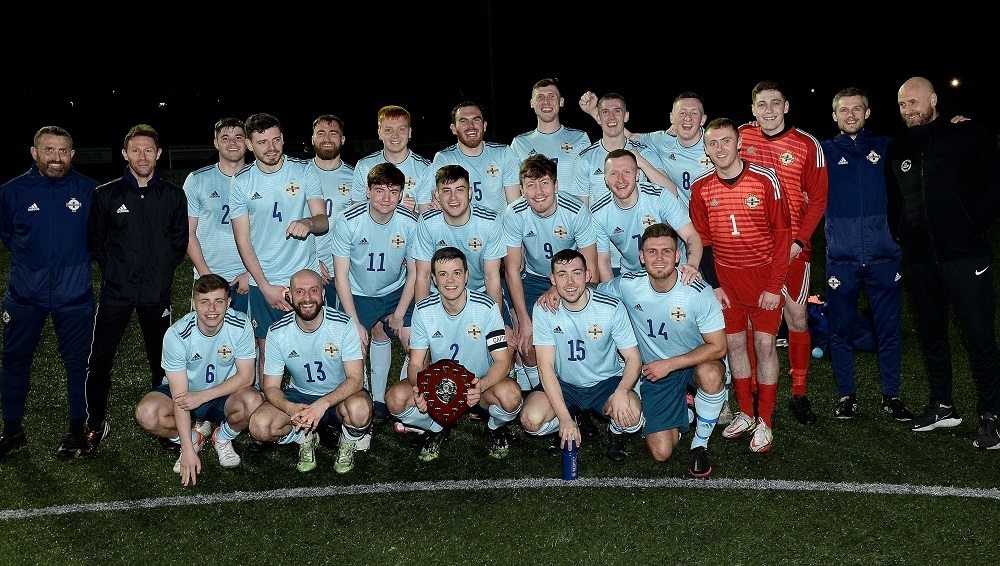 (Picture: The winning Eastern Region side. Credit: Gary Hancock)

Northern Ireland, managed by Harry McConkey, will be represented by the Eastern Region at the forthcoming UEFA Regions' Cup qualifiers following victory over the Western Region at Mill Meadow on Wednesday evening.
Holding a 2-1 advantage from the first leg in Armagh a week earlier, the East moved in front on the night with just over half-an-hour on the clock in somewhat bizarre circumstances when a throw-in into the area bounced past West keeper Alan Buchanan and into the net.
After the break both sides created chances albeit without any cutting edge.
As the second half progressed the West upped the tempo to try and get a goal back but they started to leave gaps in their defence and almost got punished when they had to clear a shot off the goal line.
The East started to control the game from midfield, and this paid dividends with a minute remaining when Knockbreda striker Anto Burns made it 2-0 with a near post finish on the edge of the box.
That secured a 4-1 aggregate victory for the East, who will now go forward to host Sweden, Czech Republic and Wales in the qualifying tournament in October. The winners of that tournament will go forward to the finals in the summer of 2023 (dates and venues TBC).
Western Region: Alan Buchanan, Lee Forgrave, Ronan McBrearty, Jack Mullan, Lee Warnock, Tony Mullan, Matthew Pierce, Kyle Eakin, Declan Martin, Philip Wallace, Simon Warrington. Substitutes: Ray Kelly, Johnny McKeown, Aidan Bishop, Reece McDermott, Richard Johnston, Jack McClelland, Stuart Rainey, Peter Campbell, Darragh Byrne.
Eastern Region: Richard Purcell, Scott McMillan, Sam Dinu, Matthew Gorman, Matthew Devine, Patrick Downey, Alan McMurtry, Leon Bonnes, John Savage, Richard Gowdy, Nathan Johnston. Substitutes: Lewis Hunter, Barry McKervey, Anto Burns, Jack Reilly, Sean og Gallagher, Andrew Martin, Aaron Rodgers, Ciaran Hylands, Charlie Dornan.