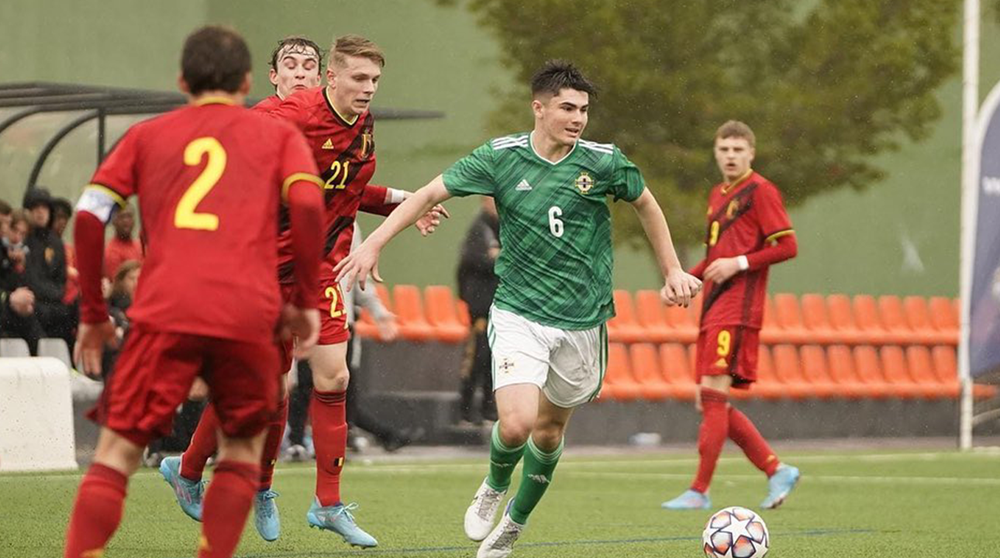 Northern Ireland fell to a 2-0 defeat to Belgium in their second game at the Football Federations Cup in Spain on Saturday.
The squad, made up of Under-18 players, is participating in the four-team tournament in Albir as part of preparations for U19 Euro qualifiers later this year.
Former Northern Ireland international Gareth McAuley again was at the helm, standing in for manager Gerard Lyttle whose father sadly passed away recently.
McAuley took the team into the game on the back of Thursday's solid 2-1 win over Norway but it was the Belgians who came out on top in this one thanks to two second half goals.
The early signs, however, were good for Northern Ireland who kept the ball well and were dominant in midfield with Darren Robinson and Jamie McDonnell winning back possession on a number of occasions.
But Belgium signalled their intent soon after when they carved out the first real opportunity of the match on 12 minutes, working the ball into the box only for a shot to sail wide of Dylan Graham's goal.
Aaron Wightman, who was on the scoresheet against Norway, kept the opposition on their toes with some fine runs before Northern Ireland won a free-kick 25 yards from goal. Charlie Lindsay, who also found the net in the tournament opener, stepped up to take it but his effort was wide of the mark. 
Northern Ireland continued to be disciplined and won the ball back in good areas, however chances were at a premium and the game was scoreless at the break.
Belgium started the second session with more possession with sub Brodie Spencer making a strong challenge as they looked to break.
Northern Ireland kept plugging away and Reece Jordan beat his man on the left and played a through ball that looked like it would carve open the resolute Red Devils' defence, however it had just a little too much on it.
Belgium broke the deadlock on 64 minutes when number nine Norman Bassette, who had only been on the field a matter of minutes, headed home from a corner.
They doubled their lead five minutes later when a late tackle from Darragh McCloskey resulted in a penalty which was converted by sub Matthis Servais.
Two to the good, Thierry Siquet's side broke again only to be thwarted by a fine save from Graham after a strong counter-attacking move.
Aston Villa's Omari Kellyman, who was introduced to the fray in the second half, looked bright, causing Belgium problems with his pace.
But Northern Ireland were reduced to 10 men late on when Spencer saw red for a late tackle.
Despite the result, there were plenty of positives for Northern Ireland, whose final game of the tournament comes against Czech Republic on Monday at 1130 (GMT).
Northern Ireland: Dylan Graham, Callum Wilson, Ruairi McConville, Darragh McCloskey, Reece Jordan, Darren Robinson, Jamie McDonnell, Charlie Lindsay, Conor Scannell, Callum Marshall, Aaron Wightman. 
Subs: (Used) Reece Evans, Omari Kellyman, Conor Falls, Brodie Spencer, Patrick Kelly; (Unused)  Tommy Fogarty, Bobby Deane, Michael Forbes, MacKenzie Kirk, Matthew Carson, Stephen McMullan (GK).
Belgium: Maton Henri Daniel, Arnaud Dony, Thiago Paulo Da Silva, Noah Stassin, Abdoul Karim Camara, Raf Smekens, Samuel Mbangula, Leandre Kuavita, Nolan Martens, Kamiel Van Der Perre, Pieter Emonds Sempere.
Subs: (Used) Norman Bassette, Mouad El Fanis, Mehdi Boukamir, Dirk Asare, Samy Tory, Noah Zadiki, Matthis Servais; (Unused)Jelle Van Neck, Richie Sagrado Sebastiao, Marten Swerts, Kjelle Peersman, Romeo Vermant.