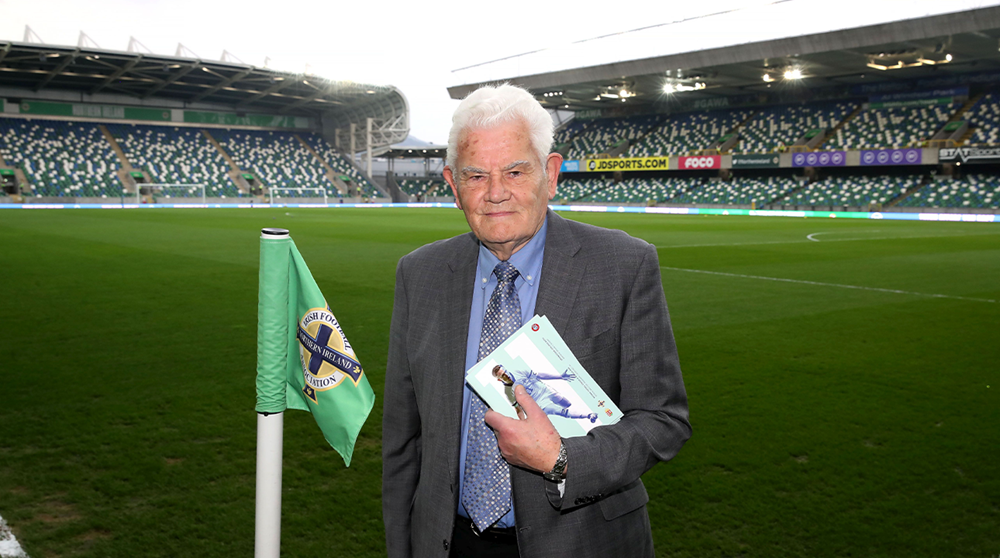 The Irish FA's Education and Heritage Centre is celebrating its fifth anniversary this month – and one of the tour guides involved in its inception has been sharing his memories of how it was established.
The centre, which tells the story of Northern Ireland football since the association was founded in 1880, is run by a 20-strong team of volunteers who are supported by Irish FA staff.
John Duffy (83) is among the experienced and knowledgeable guides who share their passion for their country's football heritage with visitors to the EHC, which is housed in the National Football Stadium at Windsor Park.
He explained he was approached by William Campbell, the then Head of the Chief Executive's Office at the Irish FA, as the stadium was undergoing a £38m revamp (2014 to 2016) and asked if he would like to join a committee that would be looking at how best to use an area on the first floor of the stadium's new-look East Stand.
John (pictured) continued: "The main purpose was to provide an area that could display the football heritage of Northern Ireland. William knew of my interest in collecting football memorabilia and thought I would have something to offer.
"I agreed to take part and met the great and the good of local football along with a company called Tandem, who were tasked with providing all the detail and making best use of the available space.
"We were informed that there was to be a budget of £400,000, which seemed quite a lot at the time, however it did not go far when faced with bare walls and floors, and no heating, lighting or any services."
Following a series of meetings it was agreed that the space would be known as the Education and Heritage Centre.
FIND OUT MORE: Irish FA Tours
Ballymena-born John, who attended his first international in 1953 and has only missed five home Northern Ireland matches since then, revealed: "I had hoped it would have been a museum and called that, but that was not possible as the Irish Football Association does not have enough artefacts to justify museum status. Hopefully some time in the future we may be able to aspire to that.
"It was further decided that tours would take place, comprising the EHC and the stadium, and that we would have guides to show visitors around. It was suggested that I should be one of the volunteer guides. Again I agreed and lo and behold I was informed that I would have to do an interview.
"I must have done all right as I was successful and I was supplied with a uniform with the letters EHC on the back of the jacket. We were also supplied with details of how to conduct a tour, and what to talk about."
Tours began in March 2017 and since then John, who also leads the team of programme sellers on international matchdays, has met "many interesting people". And the centre has welcomed more than 25,000 visitors through its doors over the past five years.
He pointed out many visitors are genuinely surprised at the knowledge the guides have about football and the stadium.
John's in-depth knowledge of the game, both on the international stage and domestically, is remarkable. He has been to major tournaments and club finals around the globe and is currently 10 shy of visiting every Premier League and Football League ground in England – all 92 of them.
He revealed: "My first Irish Cup final was in 1954 when Derry City defeated Glentoran in a second replay, and I have been to every final since then. I began collecting football cards while at primary school, went on to programmes and all other sorts of football memorabilia since then.
"When I retired from work I started to help out the fixture secretary of the Northern Amateur Football League. I was then approached about the Cliftonville secretary's role which I took on for three months and stayed for 10 years. 
"When I left Cliftonville I was approached by Lisburn Distillery to help out and was secretary and treasurer for a period of time. Given my age I stepped down, however I still represent the club at the County Antrim FA on the Steel & Sons Cup Committee."
In his role as a tour guide at the EHC he has enjoyed many highlights, such as the time that the Northern Ireland senior men's squad came to visit the centre.
He continued: "Another one that stands out for me was when two families won trips on tours as Father's Day gifts. As part of the stadium tour we visit the press conference room and on that day it had been arranged for the Northern Ireland manager, Ian Baraclough, to visit when the families were present.
"The surprise on their faces when they saw him made it all worthwhile. David Hand (a fellow tour guide) and myself enjoyed him taking time to come and meet the two families and answer their questions."
Not surprisingly, John is a huge supporter of the EHC and Irish FA Tours. "It is a great experience for two hours and well worth a visit," he insisted.
Irish FA Tours enable fans to look behind the scenes when they visit the National Football Stadium at Windsor Park. A focal point is the EHC, which tells the story of Northern Ireland football using a variety of media, interactive displays and key artefacts from the 1880s to the present day. To book a place/s on a tour go to www.irishfa.com/tours