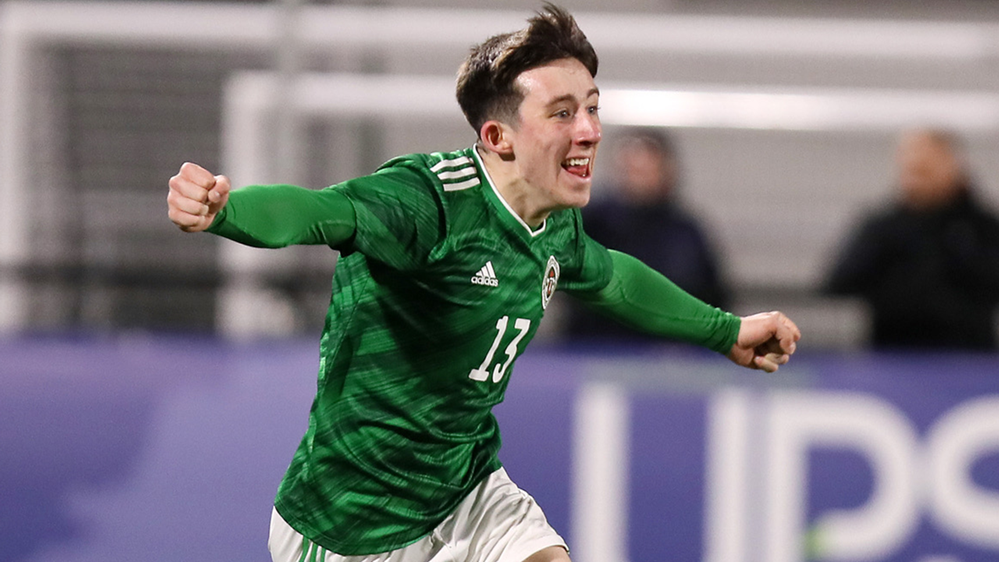 Northern Ireland's Under-18 Schoolboys secured a fine 3-0 win over Wales in the second game of their 2022 Centenary Shield campaign.
Jack McFeely, Liam McStravick and Donal Scullion hit the back of the net for Frankie Wilson's side at the revamped Blanchflower Stadium in east Belfast tonight.
However, despite the final scoreline, it was not all one-way traffic against the Welsh. Northern Ireland keeper Rian Brown pulled off a string of fine stops.
After losing 3-2 to Scotland in their opening game in the SAFIB (Schools' Association Football International Board) competition, in which they play their counterparts in England, Scotland, Wales and Republic of Ireland, Northern Ireland knew they had to get a result – and they delivered at the home of Harland and Wolff Welders FC.
On seven minutes Northern Ireland wing-back Lewis Tosh fired in a cross down the left which eventually found Scullion but he dragged his shot wide of the post.
Ten minutes later Aaron Wightman sped down the right and fired in a dangerous cross which was deflected by a Welsh defender and gathered by Wales keeper Ifan Knott.
Northern Ireland pushed forward at every opportunity against a strong, physical Welsh team, however the visitors' defence stood firm.
Tosh, who was torturing the Wales right-back, raced forward once more in the 28th minute and fired in a superb low ball into the six-yard box which the Welsh defence managed to clear.
Then Wales forward Joseff Haig produced a rasping low drive which Northern Ireland keeper Brown smothered. And Welsh midfielder Gabe Kircough let fly with an effort which Brown also handled well.
Wightman fired over the top for Northern Ireland, after jinking past a couple of markers.
On 36 minutes the home team opened the scoring. Ryan McKay fed the ball to McFeely and he spun away from his marker to slam the ball home from nine yards. It was a quality finish.
Minutes later Northern Ireland captain Aidan Kelly produced a fine block in the six-yard box to thwart Gwion Dafydd.
At the start of the second half Brown produced a good save from a well-driven free-kick from Josh Williams.
On 49 minutes the lively McStravick made it 2-0 to Northern Ireland with a lovely finish. He got on the end of a McKay pass on the edge of the penalty area and superbly lobbed the keeper.
Not long after that Brown produced an excellent stop from a Dafydd curler to prevent the Welsh from pulling a goal back.
In the 65th minute Kelly was hauled down inside the area and Wightman stepped up to take the resulting penalty, however Knott kept his effort out.
Four minutes later Wightman picked up the ball inside his own half and sped clear of the Welsh defence but put his shot wide of the post. And moments later he fired an effort over the bar.
In the closing stages Wales looked dangerous. In the 78th minute Brown made another fine save, tipping a stinging shot from Wales substitute Jake Morris over the bar. And then he pushed away a strong header from another Welsh sub, Josh Stanley Williams, before holding a drive from Welsh sub Roan Piper.
Deep into added time Northern Ireland got their third. A Wightman delivery to the back post was pulled back by substitute Jack Montgomery to Scullion and he applied the finish. 
Northern Ireland, the current holders of the trophy, are scheduled to be back at the Welders again on Friday 25 March when England will provide the opposition.
Their final game in the competition is away to Republic of Ireland Schoolboys on 31 March. The venue is set to be Buncrana Hearts FC's ground in Co Donegal.
Northern Ireland: Rian Brown, Ewan McCoubrey, Lewis Tosh, Aidan Kelly (captain), Odhran McCart, Donal Scullion, Aaron Wightman, Ryan McKay, Liam McStravick, Jack McFeely, Caolan Millen. Substitutes: (used) Shane Haughey, Luca McGreevey, Jack Montgomery, Max Greer; (unused) Alex Henderson (GK), Oscar McKenna, Caolan Donnelly, Ben Leek.
Wales: Ifan Knott, Harvey Sing, Shaiyon Johnson (captain), Louis Holden, Gruffudd Ellis, Josh Williams, Gwion Dafydd, Joseff Haig, Thomas Tweedy, James Dolman, Gabe Kircough. Substitutes: Samuel Goodwin (GK), Jake Morris, Tye Duggan, Roan Piper, Ethan Hayes, Josh Stanley Williams, Harrison Page.